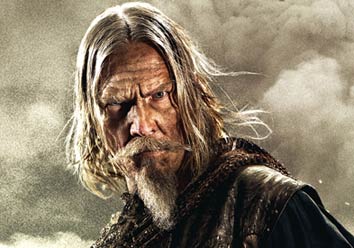 ---

PRESS STATEMENT FROM WARNER BROS:

"Warner Bros. and Legendary Pictures have just unveiled a new image and the teaser trailer for their fantasy action adventure Seventh Son. The latter may be viewed here at http://youtu.be/_JZNN1OCZ4Y.

"The film's international starring cast includes Academy Award® winner Jeff Bridges (Iron Man), Ben Barnes (The Chronicles of Narnia films), Alicia Vikander, Kit Harington (HBO's Game of Thrones), Olivia Williams (Hanna), Antje Traue (Man of Steel), two-time Oscar® nominee Djimon Hounsou (Blood Diamond) and Oscar® nominee Julianne Moore (Far From Heaven, The Hours).

"In the film, Master Gregory (Jeff Bridges) is a knight who had imprisoned the malevolently powerful witch, Mother Malkin (Julianne Moore), centuries ago. But she has escaped and is seeking vengeance. Summoning her followers of every incarnation, Mother Malkin is preparing to unleash her terrible wrath on an unsuspecting world. Only one thing stands in her way: Master Gregory.

"In a deadly reunion, Gregory comes face to face with the evil he always feared would someday return. He has only until the next full moon to do what usually takes years: train his new apprentice, Tom Ward (Ben Barnes) to fight a dark magic unlike any other.

"Man's only hope lies in the seventh son of a seventh son.

"Seventh Son is directed by award-winning filmmaker Sergei Bodrov, director of the Oscar®-nominated foreign language films Mongol: The Rise of Genghis Khan and Prisoner of the Mountains. The screenplay is by Matt Greenberg, Charles Leavitt and Aaron Guzikowski, based on the book The Spook's Apprentice by Joseph Delaney.

"Opening across the Philippines in January 2014, Seventh Son is a presentation of Warner Bros. Pictures and Legendary Pictures, and will be distributed worldwide by Warner Bros. Pictures, a Warner Bros. Entertainment Company."


Ed's Note: When content falls under "Press Statement," this means that the material is fully and directly from the company issuing the press release. The use of open-and-close quotation marks to envelope the entire text shows as much. This also means that PEP is not the author of the statement being read. PEP is simply providing the information for readers who may be interested.




ADVERTISEMENT - CONTINUE READING BELOW