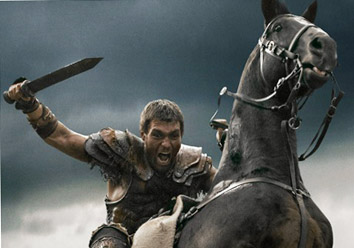 ---

PRESS STATEMENT FROM CINEMAX:

"One of television's most highly-anticipated drama franchise returns to Asia for its final season on Friday, July 26, at 10pm on Cinemax, with brand new episodes airing weekly at the same time.

"The ten-episode action-packed Spartacus: War of the Damned follows the defeat of Roman commander Gaius Claudius Glaber. Spartacus and his men have thus amassed major victories against the Romans after the Battle of Vesuvius, and these victories have not only forged the legend of Spartacus but have greatly increased the ranks of the rebellion slaves.

"Rome is indeed beginning to tremble at the threat Spartacus now represents.

"Spartacus is more determined than ever to bring down the entire Roman Republic. Following the death of Ashur, Naevia and Crixus fight as one with newfound strength and determination. And Gannicus, always seeking to embrace life to the fullest, shares his bed with the beautiful and dangerous Saxa.

"Together, the rebels engage in one bloody skirmish after another and prepare for the inevitable: a full out war with Rome.

"The Roman Senate turns to its wealthiest citizen, Marcus Crassus, for aid. A powerful, strategic politician, he respects his opponent and refuses to make the same mistakes Glaber and his predecessors have. With a young and fiercely competitive Julius Caesar as an ally, Crassus is determined to crush Spartacus and his rebellion.

"Spartacus: War of the Damned sees the return of Liam McIntyre (Spartacus), Manu Bennett (Crixus), Dustin Clare (Gannicus), Dan Feuerriegel (Agron), Cynthia Addai-Robinson (Naevia) and Ellen Hollman (Saxa). This year, Todd Lasance joins the cast as Gaius Julius Caesar, along with Simon Merrells, who will play Marcus Crassus and Anna Hutchison as Laeta.

"The epic conclusion of a legendary journey, Spartacus: War of the Damned will unleash a battle unlike anything ever seen before."


Ed's Note: When content falls under "Press Statement," this means that the material is fully and directly from the company issuing the press release. The use of open-and-close quotation marks to envelope the entire text shows as much. This also means that PEP is not the author of the statement being read. PEP is simply providing the information for readers who may be interested.



ADVERTISEMENT - CONTINUE READING BELOW