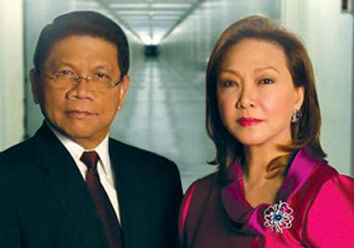 ---

PRESS STATEMENT FROM GMA:

"GMA News and Public Affairs gears up anew to provide the viewing public comprehensive and up-to-the-minute news coverage as President Benigno "Noynoy" Aquino III delivers his fourth State of the Nation Address (SONA) this Monday, July 22.

"Bannered by GMA News pillars Mel Tiangco, Mike Enriquez and Jessica Soho, GMA Network's special coverage is powered by the full roster of the formidable GMA News and Public Affairs team—the only broadcast news organization to have won the prestigious Peabody award for the Philippines. This special coverage will set up live points in key areas in the metro to report the latest updates, reinforcing the Network's commitment to deliver Serbisyong Totoo.

"Titled "SONA 2013," GMA-7's special live coverage led by multi-awarded broadcast journalists Mike Enriquez and Mel Tiangco commences at 3:15 p.m. The live broadcast will air the President's address with ancillary reports in and out of Congress.

"Using state-of-the-art news-gathering equipment and nationwide transmission facilities, GMA'-7s flagship primetime newscast 24 Oras and its late-night news source Saksi will deliver highlights of PNoy's speech, along with reactions from representatives of various sectors of society.

"SONA Ni PNoy, GMA News TV Channel 11's special coverage, on the other hand, begins at 2:30p.m. Anchored by Peabody awardee and three-time Reader's Digest Most Trusted News Presenter Jessica Soho, this special coverage will invite resource speakers to discuss and analyze the President's performance since his election into office in 2010. The interactive coverage will also highlight reactions from social media and will make use of immersive graphic presentations to aid in the discussion.

"State of the Nation with Jessica Soho, GMA News TV's flagship newscast, will feature exclusive reports and insights from experts, as well as representatives from different sectors of society. SONA-related stories will also be featured in the segment "Assignment Pilipinas."

"Pre-SONA reports and highlights are likewise available on GMA News TV's Kape at Balita, News To Go, Balitanghali, and News TV Live. Later in the day, News TV continues to give highlights of the President's SONA through its afternoon news broadcast News TV QRT.

"GMA News has also started a series called "Pangako ni Pnoy" – a progress report on peace and order, gender equality, economy and environment, and transformational leadership and government—which airs on GMA-7's 24 Oras and Unang Hirit and on GMA News TV's State of the Nation, News To Go, and Balitanghali.

"GMA News' special coverage of this year's SONA extends online. The public is encouraged to join the online discussion by sending their comments and reactions through Twitter http://www.twitter.com/gmanews with hashtag #SONA2013 and on Facebook http://www.facebook.com/gmanews.

"Live comments and reactions from netizens will be seen on television, as well as on the web through GMA News Online and the Network's social networking sites. GMA News is also inviting the public to send citizen-initiated photos and videos taken inside and outside Batasang Pambansa via YouScoop.

"GMA News Online will likewise hold a Google Hangout that will double as an analysis of the State of the Nation Address. Beginning 5.30pm on Monday, the post-SONA Hangout, hosted by GMA News Online Editor-in-Chief Howie Severino, will invite panelists, including leaders from various sectors, to discuss topics spanning the contents of the President's speech.

"This 45-minute discussion will also review the Aquino administration's performance and discuss the direction it will take in the next three years. Viewers may visit the GMA News Hangout discussion at http://www.gmanews.tv/sonahangout.

"Similarly, a live radio broadcast of the event will air on the Network's flagship AM radio station dzBB 594 kHz Super Radyo."


Ed's Note: When content falls under "Press Statement," this means that the material is fully and directly from the company issuing the press release. The use of open-and-close quotation marks to envelope the entire text shows as much. This also means that PEP is not the author of the statement being read. PEP is simply providing the information for readers who may be interested.
ADVERTISEMENT - CONTINUE READING BELOW