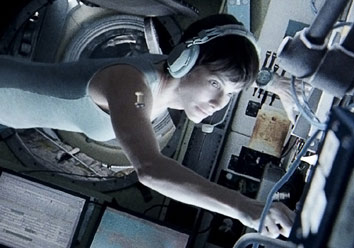 ---


Following the launch of the 'Detached' trailer last week, Warner Bros. has now unwrapped two more trailers for the sci-fi suspense thriller Gravity. The trailers codenamed 'Drifting' and 'I've Got You' may be viewed here at http://youtu.be/VEyheRyBuDA and http://youtu.be/0YqDqj6WnS0, respectively.

Academy Award® winners Sandra Bullock (The Blind Side) and George Clooney (Syriana) star in Alfonso Cuaron's heart-pounding thriller that pulls you into the infinite and unforgiving realm of deep space.

In the film, Bullock plays Dr. Ryan Stone, a brilliant medical engineer on her first shuttle mission, with veteran astronaut Matt Kowalsky (Clooney) in command of his last flight before retiring. But on a seemingly routine spacewalk, disaster strikes. The shuttle is destroyed, leaving Stone and Kowalsky completely alone—tethered to nothing but each other and spiraling out into the blackness. The deafening silence tells them they have lost any link to Earth…and any chance for rescue. As fear turns to panic, every gulp of air eats away at what little oxygen is left. But the only way home may be to go further out into the terrifying expanse of space.

In the trailer codenamed 'Drifting,' Sandra Bullock's character is seen drifting into space after and viewers can hear her hyperventilating as she floats farther and farther away.

The trailer dubbed 'I've Got You,' shows the two astronauts (played by Bullock and Clooney) hitting a space station and desperately trying to hold on to something solid to serve as their anchor. Clooney reaches out his hand towards Bullock as she says, "I've got you" but their fingers slip apart.

A Warner Bros. Pictures production, Gravity will be released in the Philippines in October 3, 2013 in 3D and 2D and distributed worldwide by Warner Bros. Pictures, a Warner Bros. Entertainment company.





ADVERTISEMENT - CONTINUE READING BELOW