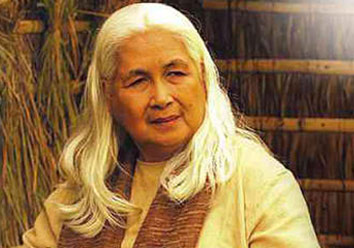 ---

Ang Platinong Buhok (The Platinum Hair), a documentary film about the late theater, TV and film actress Amable "Ama" Quiambao Viray will be screened at the Cultural Center of the Philippines. The documentary will have special screenings at the Dream Theater of the CCP, which is currently hosting the 2013 Cinemalaya Philippine Independent Film Festival.

The twenty-minute film documentary highlights the account of Ms. Quiambao's career as an actress and personal life as a friend, teacher and mother. These elements were revealed through interviews conducted by Abby Angeles.

Among those interviewed were Ama's son Ishmael Viray; Ama's sister Lui Manansala; former Ms. Universe First Runner-Up Mirriam Quiambao, Ama's niece; and her colleagues namely directors Joel Lamangan, Soxie Topacio, comedian Lou Veloso, character actress Ermie Concepcion, Joel Saracho, and J.K Anicoche.

The director of the documentary, Perry Escaño, recalls: "My first professional interaction with Tita Ama was when we did Ang Tahanan ni Bernarda Alba, a play we did for Gantimpala Theater. She was my mother. And as Bernarda, nakaka-starstruck siya.

"As an actress, she was most giving, very patient, but she expects you to do your part well. The experience to work with her gave me enough opportunities to appreciate her talents as an actress and realize how great she is as a person. We became friends after the play and she treats me as one of her theater sons, that was a big honor for me," Escaño enthuses.

"This documentary is my modest way to pay homage to her," the director ends.

Newbie talent Abby Angeles does the task of interviewing Ama's colleagues, "Being a host is one of my biggest dreams, I love interviewing people, getting their points of view, and being pat of this documentary, I feel is a big blessing."

She adds, "My interview subjects were most cooperative. Ang babait nila. They were so easy to talk with, and as they share so many things about Ms. Ama, it made me realize that she was really a dedicated actress and a true professional."

Ang Platinong Buhok (The Platinum Hair) will be shown at the CCP this Saturday, August 3, 2013 with the following schedules: 12:45 PM (1st screening) 1:20 PM (2nd screening) 1:55 PM (3rd screening) 2:30pm (last screening)

Ticket Price is P100.
ADVERTISEMENT - CONTINUE READING BELOW