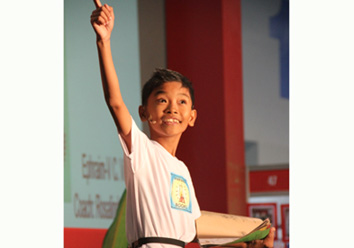 ---

PRESS STATEMENT FROM PETA:


"Wala pong imposible, sa teacher na hindi bumibitaw," says Vivian Viray of Rosalinda De Paz, mentor to her son Ephraim Viray who was last year's grand prize winner of Philippine Educational Theater Association (PETA) and Lampara Books' Kuwentong Bata Kuwentistang Bata storytelling contest.
"Last year's contest was joined by almost 200 contestants from various private and public elementary schools all over Metro Manila.
"This September 13, Lampara Books is hosting another event at the Manila International Book Fair, where Ephraim, last year's winner of the Grade 5-7 category will be performing his winning piece "Tuldok" by Ompong Remigio.
"Ephraim was then a grade six student at the Dagat-Dagatan Elementary School of South Navotas. He is third of four siblings, son to a housewife and a jeepney driver. Kuwentong Bata, Kuwentistang Bata was the first storytelling contest he had ever joined. His teacher, De Paz, pushed him to compete, in spite of a lack of resources to join.
"Marami po talagang mga talented na hindi nakakalabas, kulang lang kasi sa suporta" says De Paz. She recalls how Ephraim's mother, who was suffering an infection to a broken leg at the time, felt wary about entering her son into the storytelling competitions.
"Despite the odds, De Paz remained undaunted. She shelled out for the costs including registration fees, transportation and other costs related to the competition.
"De Paz's sacrifice paved Ephraim's path to the finals. Ephraim says Kuwentong Bata, Kuwentistang Bata was unlike any other contest he's joined, "Sa eliminations po, hanggang sa finals, pinag-woworkshop kami… Tawa kami ng tawa, parang di kami magkalaban." Through the screening process, the contestants and their coaches were given workshops on acting, positive discipline and children's rights.
"Through the workshops, Ephraim's confidence grew. PETA facilitators gave him tips and comments to enhance his piece. During the final showcase, he made sure to hit all the notes he was given, and it paid off. He was the unanimous choice among judges.
ADVERTISEMENT - CONTINUE READING BELOW
"Ephraim championed in telling a children's story. In the process of joining the contest, however, an even more touching story was made—the story of a child's triumph over adversity through the confidence and support of his teacher.


"Ephraim is only of the many lucky hopefuls who participated in last year's competition. This year's Kuwentong Bata, Kuwentistang Bata is open to all elementary students, Category A for Grades 1-4 and Category B for Grades 5-7. Finals will be held at the Manila International Book Fair on September 15, 2013 at the SM Mall of Asia SMX.


"Registration forms are available at the PETA Theater Center in Quezon City and in all Precious Pages outlets. Deadline for registration is on August 17. For more information, contact Patricia Liwanag or Tin Palattao at Kuwentong Bata, Kuwentistang Bata Secretariat: Tel. No. (02) 7256244, (02) 410-0821 to 22, 09179002665 (Patricia Liwanag) or 09175704733 (Tin Palattao). Or email petastorytelling2013@yahoo.com"


Ed's Note: When content falls under "Press Statement," this means that the material is fully and directly from the company issuing the press release. The use of open-and-close quotation marks to envelope the entire text shows as much. This also means that PEP is not the author of the statement being read. PEP is simply providing the information for readers who may be interested.