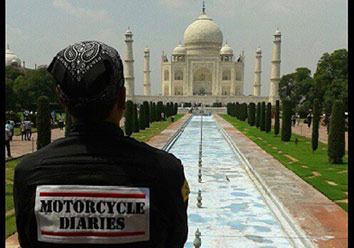 ---

PRESS STATEMENT FROM GMA NEWS TV 11:

"Gear up for a thrilling ride as GMA News TV's Motorcycle Diaries kicks off its second anniversary celebration this Thursday, August 15. On the first leg of this three-part special, Peabody awardee Jay Taruc revs up his motorcycle to discover a nation rich in history and culture: India.

"From the capital city of New Delhi to the city of Agra where the famous Taj Mahal stands, Motorcyle Diaries sets off into the heart of India to explore its breathtaking wonders.

"Joining Jay Taruc in this high-speed expedition is motorcycle icon Joey Almeda. Aboard their bikes, they speed off to visit one of India's architectural treasures, the Qutb Minar. Regarded as the tallest minaret in India, this 72-meter edifice is located in the nation's historical Qutb Complex that dates back to 1200 A.D.

"Also en route are many of India's cultural marvels – the gigantic Lotus Temple and the 340-room presidential palace Rashtrapati Bhavan, along with historical structures such as the India Gate, the National Rail Museum and the Sharma Motorcycle Depot.

"Kick things up into high gear with the first leg of Motorcycle Diaries' second anniversary special, the India Expedition, airing this Thursday, 10 PM on GMA News TV Channel 11."




ADVERTISEMENT - CONTINUE READING BELOW