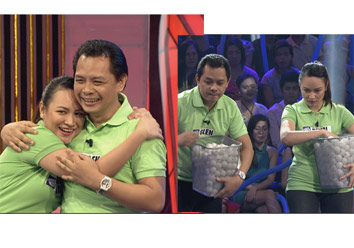 ---
PHOTO CAPTION: Glen Sibonga and Demai Granali of PEP.ph (Philippine Entertainment Portal) took part in ABS-CBN's game show Minute to Win It.




PRESS STATEMENT FROM ABS-CBN:


"Instead of beating deadlines, entertainment press reporters Glen Sibonga and Demai Granali raced against time to outdo their opposing team in ABS-CBN's top-rating game show Minute to Win It this week.
"Glen, a columnist for tabloid Ang Bagong Tiktik and a contributor for PEP.ph, and his partner Demai, one of PEP.ph's section editors, experienced firsthand the nerve-fraying mood in the studio while playing the show's challenges.
"The press duo gamely dueled against M.O.R. 101.9 DJ's Popoy and Eva Ronda in the first part of the game show's Head to Head Challenge where they aimed to score four points first. Glen and Demai, however, lost to the DJs and failed to play for the P1 million jackpot prize.
ADVERTISEMENT - CONTINUE READING BELOW
"Demai, on a blog post on PEP.ph, wrote about her Minute to Win It experience and said that what looked deceptively easy on TV was actually harder to do in real life and in the actual game. Not even a healthy amount of preparation and practice will determine the outcome of the game, she said.
"We think it's so simple when we watch it on TV, but once you're inside the 60-minute circle, it's different. What other contestants say is true – nervousness, excitement, enjoyment, desire to win, and everything else get muddled when you're playing the game. And the conditions—the cheering crowd, dancing lights—make it even harder for you to concentrate," she wrote.
"Nonetheless, I enjoyed every minute of the game. It was as if I was a child again," Demai added.
"Glen, for his part, described it as a 'once-in-a-lifetime' experience and an instant bonding moment with his partner Demai.
ADVERTISEMENT - CONTINUE READING BELOW
"It was a great privilege for me to join. Even if we lost, I felt that I was still a winner because I knew I could go through the challenges and share the experience with my family in the studio," he said.
"Watch Minute to Win It from Mondays to Fridays at 11AM on ABS-CBN."


Ed's Note: When content falls under "Press Statement," this means that the material is fully and directly from the company issuing the press release. The use of open-and-close quotation marks to envelope the entire text shows as much. This also means that PEP is not the author of the statement being read. PEP is simply providing the information for readers who may be interested.