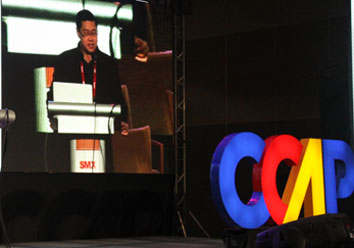 ---
The Contact Center Association of the Philippines (CCAP) is emphasizing further growth of the industry outside Metro Manila by holding the International Contact Center Conference & Expo (ICCCE) 2013 in Cebu City this August 28-30, 2013.
The three-day event at the Shangri-La's Mactan Resorts and Spa and Radisson Blu Hotel and Resort, will be the first time that the ICCCE will be held outside Metro Manila since its inception in 2005.
Bringing the ICCE to Cebu City will showcase the opportunities that abound outside Metro Manila, particularly in terms of finding more manpower. Raffy David, CCAP Director and Head of Events and Membership Committee, says that Cebu City has vastly improved in terms of infrastructure, industrial and commercial growth, and tertiary educational attainment.
"We're sending a clear signal to the rest of the country that CCAP means business as the industry is looking to expand outside of Metro Manila. What we're doing as an association is to put together the right elements: the experiences and insights from industry practitioners, the location, and the manpower," David says.
ADVERTISEMENT - CONTINUE READING BELOW
David adds that ICCCE 2013 also takes advantage of Cebu City's reputation as a tourist attraction. CCAP is promoting the ICCCE 2013 in Cebu City as a "working vacation" to local and international delegates. David notes that by combining business and leisure in this year's ICCCE, delegates will enjoy their experience better and could serve as industry ambassadors to inform others of what the Philippines has to offer.
This year's ICCCE has several new activities that provide opportunities for practitioners and managers to pick up lessons on strategies, techniques, new technologies and best practices. These lessons are designed to allow attendees to level up their industry-relevant knowledge and skills, becoming highly valued assets for their organizations. To that end, companies sending their personnel to ICCCE 2013 are expected to benefit most from the event, obtaining invaluable Return On Investments through a more empowered workforce.
This year's theme is "Where the World Meets the Philippines," reflecting the Philippine's position as the world's top destination for outsourced voice services. ICCCE focuses on the Philippines as a source of best practices, innovation, insights, expertise and thought leadership for contact center operations abroad to learn from.
ADVERTISEMENT - CONTINUE READING BELOW
"As an organization, we envision the Philippines as a model for growing an industry, especially in the field of contact center services. The things we are doing from here on in will strengthen the country's leadership in the global customer service industry," David ends.
For more information about the ICCCE 2013, call the CCAP Secretariat at (+632) 856-4954, (+632) 843-0603 or visit www. Iccce.com.