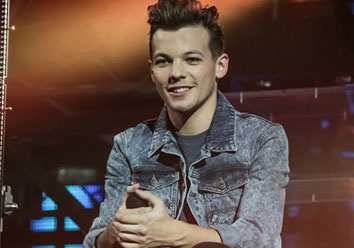 ---

PRESS STATEMENT FROM COLUMBIA PICTURES:


"When Academy Award-nominated documentary filmmaker Morgan Spurlock was approached to make One Direction: This Is Us—a movie about One Direction—he jumped at the chance.

"One of the things I've always tried to do from the very beginning of my career is create very popular documentaries," says the Super Size Me director. "And I think that this film, coming off the work I've done in the past is the next step. Making something that's successful to a large audience that tells a great story, that is really intimate and gets you into their lives, but at the same time, is also really entertaining and engaging, with great music."

"Naturally, meeting bandmembers Niall Horan, Zayn Malik, Liam Payne, Harry Styles, and Louis Tomlinson was important. Spurlock found the boys completely charming but also level-headed about the phenomenon they were in the middle of experiencing. Notes Spurlock, "They're very fun. I think they're incredibly grounded considering the amount of crazy that's surrounding their lives on a daily basis. And I think that was one of the things that I really liked about them."

"It's not enough, says Spurlock, that they're five good looking guys that get put together in a band. That happens all the time. But the fact that, you know, they actually had the talent and the ability and the drive to kind of push it as far as they have, and continue to do, is remarkable."

"Spurlock filmed in various locales for almost six months, including the band's performance in Mexico City in early June, 2013. The crew number ranged anywhere from Spurlock alone holding a camera without even an audio person, to fully coordinated concert set-ups involving, says the director, "an army of people." Filming the band's O2 performances alone were massive undertakings for someone used to the run-and-gun nature of most documentaries. Says Spurlock, "Probably about, I don't know, 250 people were working on the concert when we shot at the O2, it was massive."

"As for the behind-the-scenes footage, which runs the gamut from backstage mischief before the show to touching hometown scenes, like Harry working at the family bakery, those moments alone amounted to 500 hours of material. Editing it down was challenging, but the band were instrumental in helping Spurlock and the editors pick the most choice moments.
ADVERTISEMENT - CONTINUE READING BELOW
"Says Spurlock, "They've given really insightful feedback about things that are very personal to them … to things that they remembered that we shot that we have forgotten about, and to remind us to dig and find. It was like, 'Oh my gosh, you're right, that was a great moment.'"

"For producer Cowell, Spurlock was the ideal choice as director because he was never going to stage scenes or manufacture magic. "Morgan is somebody who likes to kind of eavesdrop," says Cowell. "He wants to pick stuff up without people realizing that they're being filmed and that's his skill and he's very patient. It's not about set pieces or 'Do this for the camera.' He's just put the cameras in all these different places and he's just filmed what it's like being in this group. It's fascinating."
What ultimately emerged from the editing process was the sense that moviegoers were going to get a special peek into the members' lives. Adds Spurlock, "You feel like you really do get to become a part of this journey and these boys and this band." It could even generate new fans, he suggests. "I think every One Direction fan should take someone who isn't a One Direction fan, because I think when people see the movie, they'll see a different side to these boys that they probably didn't think existed or they didn't think they would enjoy. And I bet they'll convert a lot more fans than they think they will."

"As for the decision to film the 02 concerts in 3D, Cowell says it's "unbelievable. The 3D is sensational. It actually makes the concert like being there. It's really clever."

"None of One Direction: This Is Us would have happened, however, if the boys hadn't put their faith in the project, and from the get-go, they all believed in what could be achieved.
"There's a tremendous amount of trust you have to have, between you and the subjects that are in the film," says Spurlock. "It takes time. It takes conversations. You have to spend time with one another to talk, feel comfortable, and know that this person is there to tell an honest story about you, and tell a story that you ultimately want to be told. And, you know, I give them credit. I mean, they were really open and honest with us about their lives, their fears, about the things that were going on with them, and kind of letting us come into their world. It's a big undertaking, and it takes a lot of courage, and they were fantastic about it."
ADVERTISEMENT - CONTINUE READING BELOW

"In the end, says the director, the boys in One Direction understood that this was an opportunity to document a special time in their lives. "They realize this movie is a time capsule," notes Spurlock. "They already know how special it is, and to be able to have something like this where you can really show—whether it be your family down the road, your kids down the road, something you just want to keep for yourself—that really does capture the essence of this moment in its purest form." Adds Spurlock, "I think they'll treasure this whole experience."

"And is he now a fan?

"Listen, I've seen thirty-plus One Direction concerts at this point," says Spurlock. "I am like a hardcore Directioner now!"

"Opening across the Philippines on Friday, August 30, One Direction: This Is Us is distributed by Columbia Pictures, local office of Sony Pictures Releasing International."


Ed's Note: When content falls under "Press Statement," this means that the material is fully and directly from the company issuing the press release. The use of open-and-close quotation marks to envelope the entire text shows as much. This also means that PEP is not the author of the statement being read. PEP is simply providing the information for readers who may be interested.