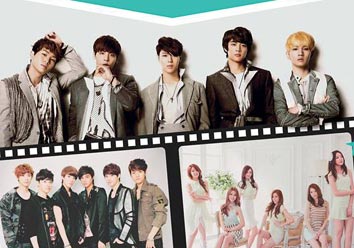 ---
From the recent success of All Access Productions' Dream KPOP Fantasy Concert held last January 19, 2013 at the Mall of Asia, Open Grounds, the team now ventures into another promising concert event aptly titled KPOP Republic.


The concert would feature three of the top Korean pop idols: SHINee, EXO-K, and Dal★Shabet. Each group has proven a strong following not just from their adoring Filipino fan base but also across the world: garnering fans from Asia, the U.K., and the United States.


SHINee is a South Korean contemporary R&B boy group under the management of SM Entertainment. Formed in 2008, the group consists of Onew, Jonghyun, Key, Minho, and Taemin. The group is known in the Philippines for their hits such as "Ring Ding Dong," "Lucifer" and "Dream Girl." This boy band is one of the few KPOP groups in the Philippines to receive No. 1 spot in digital charts.


EXO-K, the Korean half of the 12 member group EXO, is composed of Suho, Baekhyun, Chanyeol, D.O, Kai and Sehun. The group received numerous "newcomer" awards in 2012, and has since won over 20 awards since their debut. EXO is dubbed as the next Super Junior phenomenon to hit the Philippines.


Dal★Shabet is a South Korean girl group under Happy Face Entertainment. The members include Serri, Ah Young, Jiyul, Woohee, GaEun and Subin are eagerly followed by "Darling," the name for their exclusive fan club.


In addition to such fame, members of Dal★Shabet are also active as hosts and actors on prime Korean dramas.


For its opening acts, KPOP Republic will feature Soo-Min of April Kiss—a 6-member girl group—and Crispi Crunch, a Korean hip-hop duo.


This concert will be the first time Crispi Crunch and Soo-Min will be seen performing on the Philippine stage.


Catch these top KPOP acts at KPOP Republic happening on September 7, 2013 at the SMART Araneta Coliseum. Tickets are available via Ticketnet and Ticketnet Online.



ADVERTISEMENT - CONTINUE READING BELOW