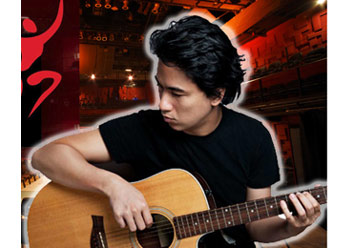 ---

Ely Buendia's music defined a generation. His fusion of different musical styles changed the sound of Pinoy rock in the '90s and paved way for the creation of new alternative bands. Now 20 years in the business, Buendia shares his success by supporting other causes close to his heart.

This September 20, Buendia performs his greatest hits in a solo concert with a 12-piece band at The PETA Theater Center. The concert titled Ely Buendia Sings for PETA is part of Philippine Educational Theater Association's (PETA) Endowment Fund Campaign, which aims to raise funds in time for the theater company's 50th Anniversary in 2017.

As far as Buendia remembers, he first encountered PETA when he was in grade school, "PETA, led by Soxie Topacio, came to our school and did a presentation. I've been familiar with their group ever since."

In 2012, he was formally introduced to the company when he became a guest of Noel Cabangon's Tuloy ang Byahe concert last year. This initial involvement introduced Buendia to PETA's cultural work and unique creative programs.

When asked why he supports PETA, Buendia fondly shares, "Nakakabilib ang PETA. Talagang Filipino pride." He adds, "I am drawn to PETA because their work highlights the talent and artistry of Filipinos...They produce original Filipino theater, and talk about the Filipino experience. Pinoy na Pinoy."

Buendia further shares, "I want to help PETA continue its legacy because their work should be seen and experienced by future generations of Filipinos."

The music icon also makes a remark about the importance of artists supporting each other. "Support for the arts doesn't come easy. We have to help each other. Besides, PETA rocks."

PETA President Cecilia B. Garrucho also shares PETA's excitement to have Ely Buendia perform for the benefit or PETA, "It is a rare opportunity for PETA to have a mainstream artist like Ely to support our work and we are very honored to have a Filipino music icon perform in our home."

Ely Buendia sings for PETA will be held at The PETA Theater Center on September 20, 8:00 PM. Tickets are sold at P1000 (balcony side), P2000 (orchestra side, balcony center), P2500 (orchestra center), P5000 (VIP). Contact Tel. No. 725-6244 or (0917) 518-3654 to reserve. Tickets available at Ticket World through www.ticketworld.com.ph or call Tel. No. 891-9999.




ADVERTISEMENT - CONTINUE READING BELOW