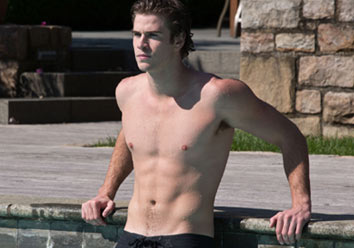 ---

PRESS STATEMENT FROM WALT DISNEY STUDIOS:


"Australian up-and-coming actor Liam Hemsworth, who recently garnered global attention playing Gale in the blockbuster The Hunger Games takes on the lead role of Adam Cassidy in Relativity Media's new thriller Paranoia.

"In the film, Adam Cassidy is a bright young rising star at his global tech company who just wants a life different from that of his working-class father still struggling to make ends meet. But when Adam makes one naive mistake, he is forced into becoming a covert corporate spy and obtain trade secrets at a rival company. He gets an instant pass into the opulent and ruthless world of the rich, and sees how this other half lives with a corner office, ready-made luxury apartment and fast car.

"But before he knows it, he is snared between two tech-world icons (Harrison Ford, Gary Oldman) with titanic wealth and a mighty system of power to watch—and control—his every move.

"When Adam decides he wants out, he discovers that they will go to shocking lengths to keep their secrets concealed. A deadly cat and mouse game ensues and Adam must do all he can to protect himself and the ones he loves.

"The filmmakers of Paranoia saw in Liam Hemsworth all the qualities of both youthful daring and hard-won integrity they were looking for in Adam. "He's gorgeous, charismatic and charming, but Liam is also very accessible," says producer Alexandra Milchan. "You feel that he's someone who is really on the rise and wants it, but at the same time he has the class and dignity that allow him to question that. He also has a maturity and a work ethic that is rare."

"Director Robert Luketic was equally impressed. "I found him to be a wonderful surprise in this role," he says. "From the start, we shared the same vision of what his character should be. Adam's values really resonated with Liam and as he responds to seeing his loved ones threatened, I watched him blossom."

"For Hemsworth, his character is someone who gets savvier the harder he is pushed. "Adam has tech smarts, but he also has street smarts," he observes. "He starts out as someone I think everyone can relate to: a guy with big dreams who has grown up in a low-income family who wants to reach for the stars. But when he gets into the position where he really can do that, and sees what it's all about, he realizes it's not exactly the life that he wants."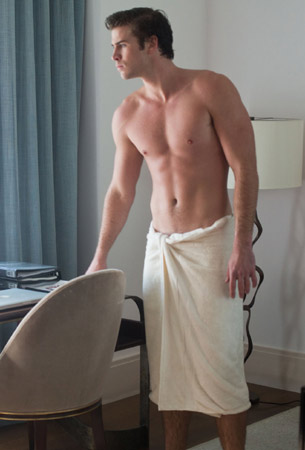 "Hemsworth was challenged to reveal how Adam transforms in the middle of the jeopardy he is in. "At the start of his spying, I think it feels like a game to him and he kind of buys into that game," the actor notes. "It's really fun for him getting a new apartment and cool cars and having money, but as it goes on, he realizes how serious this game is and once he's in deep, he starts to see that his very life is at stake."

"The two powerful men endangering his life gave Hemsworth a thrilling opportunity to work closely with both Gary Oldman and Harrison Ford. "Gary is scary as hell as Wyatt," Hemsworth muses. "He doesn't hold anything back and he can look you in the eye smiling while he tells you that he's going to kill you. He's very gentle and kind in the morning and then we would do rehearsal and he was spitting in my face and yelling at me with amazing intensity."

"Hemsworth notes that Ford also transformed in frightening ways. "Harrison is a really nice guy with a soft-spoken demeanor and his character, Goddard, is that way on the outside. But inside, Harrison reveals that Goddard has an edge to him that's quite mean and very powerful," he says. "Adam really falls under his spell and it's easy to see why he starts to idolize and trust him, until he realizes Goddard might not be as nice as he seems."

"Distributed by Walt Disney Studios Motion Pictures International, Paranoia will be shown exclusively at Ayala Malls Cinemas nationwide starting October 2."


Ed's Note: When content falls under "Press Statement," this means that the material is fully and directly from the company issuing the press release. The use of open-and-close quotation marks to envelope the entire text shows as much. This also means that PEP is not the author of the statement being read. PEP is simply providing the information for readers who may be interested.


ADVERTISEMENT - CONTINUE READING BELOW