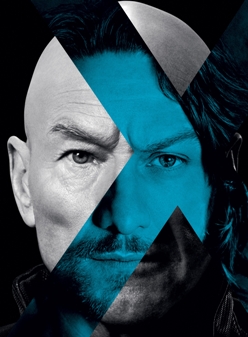 ---

PRESS STATEMENT FROM 20TH CENTURY FOX:


ADVERTISEMENT - CONTINUE READING BELOW
"X-Men: Days of Future Past directed by Bryan Singer is based on a classic two-issue comics tale that takes us to a bleak future where powerful machines overpower and vanquish the warm-blooded populace that forces the mutants to time travel despite all odds.
"Revealed in this year's San Diego Comic-Con are two teaser interfused posters of the movie featuring two of the greatest mutants ever to live in the X-Men universe. The promotional teaser posters of Professor X and Magneto are each inhabited by two actors—Patrick Stewart and James McAvoy melds as Professor X while Ian McKellen and Michael Fassbender's features are merged to become Magneto.
"X-Men: Days of Future Past stars newcomers Peter Dinklage, Omar Sy, Boo Boo Stewart, Fan Bingbing, Evan Peters, Adan Canto, Josh Helman, along with returning stars Jennifer Lawrence, Michael Fassbender, James McAvoy, Nicholas Hoult, Patrick Stewart, Ian McKellen, Hugh Jackman, Anna Paquin, Ellen Page, Shawn Ashmore, Halle Berry, Lucas Till, and Daniel Cudmore.
"X-Men: Days of Future Past will open on May 22, 2014 in Phils. From 20th Century Fox to be distributed by Warner Bros. in theaters nationwide."


Ed's Note: When content falls under "Press Statement," this means that the material is fully and directly from the company issuing the press release. The use of open-and-close quotation marks to envelope the entire text shows as much. This also means that PEP is not the author of the statement being read. PEP is simply providing the information for readers who may be interested.