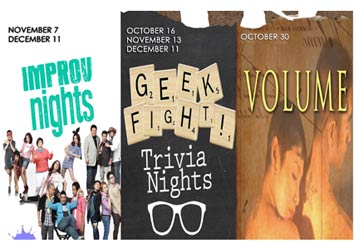 ---

PRESS STATEMENT FROM PETA:

"The Philippine Education Theater Association (PETA) is offering a fun, hip selection of events this October to December. In addition to the hit events such as Improv Nights by the Silly People's Improv Theater (SPIT) and Geek Fight! Trivia Nights (the popular touring quiz bee), PETA will also collaborate with award-winning dance group Airdance for the show titled Volume.

"SPIT, the premiere improvisational group in Southeast Asia, will be hosting Improv Nights on November 7 and December 5, 8:00pm. SPIT represented the Philippines in the prestigious Los Angeles Comedy Festival in 2004 and in the Hong Kong International Improv Festival in 2012. Last June, they also hosted the Manila International Improv Festival, also held at the PETA Theater Center.

"Geek Fight! Trivia Night, invites geeks, nerd and other self-confessed trivia addicts to put their game face on. The popular event in UK , which has been making rounds in Manila bars and restaurants, had a successful run at the PETA Theater Center last year. This year, the event will be on October 16, November 13 and December 11. Brainy bunches of 6 participants per team go on a Battle of the Brains type of competition.

"Airdance's Volume is a contemporary dance exploration of movement through different areas in space, body and time. Show is on October 30 on 3:00 pm and 8:00 pm. Formed in 2001, dance artists of varied backgrounds from classical and modern ballet, to jazz and ballroom, to hip-hop, breakdance, martial arts and gymnastics have converged to form this pioneering dance company.

"The PETA Theater Center offers something for everyone in its second roofdeck series. Whether its' spontaneous comedy, some friendly competition or poetic movement, PETA aims to bring enjoyment to its growing following. The open-air roofdeck, ideal space for intimate performances and various events, as well as other PETA Theater Center spaces are available for reservations.


"The PETA Theater Center is located at No. 5 Eymard Drive, New Manila, Quezon City. For inquiries and ticket reservation, contact (02) 725-6244 or (02) 410-0821, 0908-8728830 or email peta.theatercenter@gmail.com."


Ed's Note: When content falls under "Press Statement," this means that the material is fully and directly from the company issuing the press release. The use of open-and-close quotation marks to envelope the entire text shows as much. This also means that PEP is not the author of the statement being read. PEP is simply providing the information for readers who may be interested.


ADVERTISEMENT - CONTINUE READING BELOW