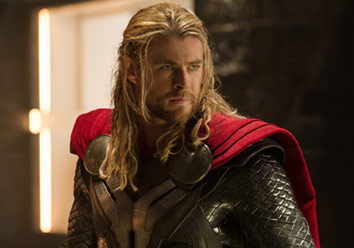 ---

PRESS STATEMENT FROM WALT DISNEY STUDIOS:

"Australian actor Chris Hemsworth reprises the role of Thor for the third time in Marvel's Thor: The Dark World.

"In this latest epic adventure, Hemsworth is back in his glory, looking every bit like the Mighty Avenger that audiences have come to idolize. Hemsworth says of his return, "I love playing the character. The trick is to find new ways to make the character have some sort of advance or growth from the last film. Each time we get to break him down and find his human qualities and his vulnerable side it's interesting because he has such a tough exterior and an unbreakable feel."

"In Marvel's Thor: The Dark World, Thor's character arc does indeed continue, exploring both the fractured relationship between Loki (Tom Hiddleston) and Thor, and Thor's relationship with Jane (Natalie Portman). But Hemsworth reminds, "The bigger picture is that potentially Thor is stepping into the role of king, and he needs to prove that he deserves to be there and also understand and come to terms with the responsibilities that becoming king carries. He figures out that it doesn't necessarily come with all the privileges; there are a lot of sacrifices. It's that next step in his evolution to become king."

"Hemsworth approaches his role by looking for the conflict and determining what Thor is trying to work through. "You've got to make sure the hero is a big catalyst to the resolution; that he's not just there to step in at the very end and save the day," explains Hemsworth. "You want a journey. I think what we managed to find was real conflict with Thor about where his place is. Is it with Jane on Earth, or is it here in Asgard? His senses are now awakening and he's having a greater understanding of the world and its problems."

"Hemsworth has definite feelings about why Thor, even though he is a god from another world, is so relatable to audiences.

"Thor's in love with a human, so that helps," says the actor. "Instantly there's a connection. It helps that we've brought the story into a more real, grounded look. But Thor is going through human problems. His conflicts and emotions are the same as ours. They're not so far off that we can't find any connection to it. He's battling with his responsibilities and coming to terms with who he is, his place in the world, his relationships and family."

"In Marvel's Thor: The Dark World, the polarizing relationship between brothers Thor and Loki takes a new turn. Hemsworth relates, "In the very first film Loki and Thor as brothers had a friendship where there was less hatred involved. We get to a place in this one where there's more of that this time around again. Thor gets to ask Loki what this is all about and how they got to this point in their relationship.

"Thor is able to confront Loki and say, 'It's about time that you recognize your role in this. You know, it wasn't all everyone else's fault.' In Marvel's The Avengers it was us yelling at each other and butting heads, and that happens a bit in this, too, but for the most part it's a far more interesting dynamic," concludes Hemsworth.

"Hemsworth has nothing but praise for fellow cast member Tom Hiddleston, who plays the scheming Loki. "Tom brings so much to the part; people love that character," says Hemsworth.

"He brought such empathy to Loki that audiences were conflicted. He's the villain but we kind of love him. Any time you can do that, it makes it so much more interesting. Some of my favorite scenes are with Tom in every film we've done."

"The relationship between Thor and Jane Foster also gets put to the test in when the two reunite. Hemsworth explains the tension between the two, saying, "Jane's been wondering where the hell he is and where the hell he's been, and why he hasn't contacted her since he left. She comes to understand that he's been saving the universe, so that's not a bad excuse. But the two of them have to figure out whether or not this is a realistic relationship."

"This film marks the first time that Hemsworth has worked with director Alan Taylor. Describing Taylor's approach to the material, he states, "Alan's fantastic. He's got a great sense of story and a need to find the truth in this and not have it be hokey and ridiculous. Very much like the Game of Thrones series, which was where Alan had just come from, there was grounding in reality no matter how mythical the world got. Asgard does look like a place you could visit. There's a sort of medieval feel, but there's also a science fiction quality to it."
Despite its serious overtones and fierce action, Marvel's Thor: The Dark World doesn't lack for comedic moments.

"Hemsworth reveals, "The humor doesn't lay so much in Thor's kind of naiveté as it did in the first one when that fish-out-of-water quality played so well. As much as we wanted to repeat that we couldn't because it would contradict the fact that he was now becoming more mature and aware. But Kat Dennings and Natalie Portman certainly have a ton of humor in this and some great dialogue. It's through their observations of how wacky our world of Asgard is. So, it's sort of what we had in the first one, but a bit of a role reversal."

"Hemsworth expects audiences will have a great experience when they see the film in theaters. "I'm excited for people to see the updated version of this world and these characters," says the actor. "I'm excited myself to see it all come together on the big screen. There are so many pieces in the puzzle and so many different sections and departments with everyone doing their bit that it's such a satisfying thing when it comes together and works. It is what you thought it was going to be and hoped it would be."

"Opening across the Philippines on October 30 in IMAX 3D, Digital 3D, 2D and regular theaters, Marvel's Thor: The Dark World is distributed by Walt Disney Studios Motion Pictures International."


Ed's Note: When content falls under "Press Statement," this means that the material is fully and directly from the company issuing the press release. The use of open-and-close quotation marks to envelope the entire text shows as much. This also means that PEP is not the author of the statement being read. PEP is simply providing the information for readers who may be interested.
ADVERTISEMENT - CONTINUE READING BELOW