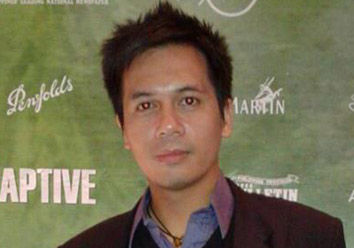 ---
PHOTO CAPTION: Overture director Perry Escano talks about his film, which will take part in the 2013 International Film Festival Manhattan.





Triple MP Productions' Overture, directed by Perry Escano, is one of the featured closing films in the International Film Festival Manhattan. This Filipino movie is competing in the said film fest that will take place in New York from October 17-20, 2013.

Overture tells the story of two best friends who are obviously in love with each other but both are in denial about their feelings, afraid to get hurt and destroy the precious friendshiop that they share.

According to its official website, the IFFM is "committed in showcasing entertaining and diverse films in all genres and scope to equal the diversity of New York."

"My friend Roan Belle Ng wrote this script," Escano recalls. "The most challenging part for me, was to shoot it continuously, to execute it properly because this is without dialogues. I tell the story visuaally, making sure that I capture the friendship and the non-verbal communication that the two actors exhcange.

"I am very lucky to have Richard Quan and Elle Velasco as my actors," states the director. "They have palpable chemisty. The camera just loves them and they were able to showcase various emotions just with their eyes, smiles and body language."

Escano says, "I am so overwhelmed and honored that my film is representing our country for the second time around! Last year, we presented Alibi and it received so much love appreciation. I pray that Overture gets the same reception as well."

Aside from being a film director, he is currently working with HPI Synergy Productions. "They hired me as Production Manager and I am part of their creative team for Pedro Calungsod: Batang Martir. The film is an entry to the 39th Metro Manila Film Festival and features Rocco Nacino in the title role.

Escano adds, "I want to know every detail on how to make a film not only in artistic side but as well as the business side."

His other project is the Ama Quiambao documentary Ang Platinong Buhok, which is set to have special screenings in different schools soon.

He ends, "To all the Filipinos in New York, please watch and support Overture. Please give us all your love."

The closing night of the International Film Festival Manhattan is scheduled to take place this Sunday, October 20 at 7:40 p.m. to 9 p.m., Anthology Film Archives, 32 Second Avenue. (@ 2nd St.,) New York.


ADVERTISEMENT - CONTINUE READING BELOW