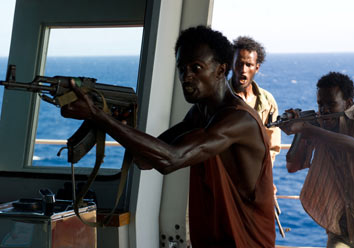 ---

PRESS STATEMENT FROM COLUMBIA PICTURES:


"In seeking the actors to play the four Somali pirates who hijacked the U.S. container ship Maersk Alabama in 2009 in Columbia Pictures' hostage thriller Captain Phillips, casting director Francine Maisler conducted an intensive search for actors who could bring both authenticity and emotion to their roles. Maisler began by narrowing the choices to actors of Somali descent.

"And that was a massive casting dilemma," says Maisler. "But director Paul Greengrass has a tremendous gift for teaching young, untried actors to perform, often alongside formidable experienced actors—it's part of what makes his films so visceral. I knew the only way to build the organic connection to Somalia that was so important to the film was to find men who were Somali or Somali-American. And I knew that meant finding young men who may have had relatively little experience on set, but who were open to taking a leap on this film, and who were able to hold their own, opposite Tom Hanks," says Maisler.

"Having researched all the places in the world where Somalis have emigrated in large numbers, Maisler centered her casting search on the U.S.'s largest Somali-American community, in Minneapolis, Minnesota. There she distributed flyers announcing an open casting call at the Brian Coyle Community Center, drawing more than 1,000 candidates for the role of Muse and his three crewmates.

"As she worked with Minnesota Casting Director Debbie DeLisi to narrow the candidates from hundreds to just a handful, Maisler began to group them into foursomes to see how they would work with one another. One of those initial foursomes consisted of Barkhad Abdi as Muse, Barkhad Abdirahman as Bilal, Faysal Ahmed as Najee, and Mahat M. Ali as Elmi. Realizing that these four men all knew one another, it was natural for Maisler to assign them as a group.

"Once we grouped them, they began to rehearse on their own time, with Barkhad Abdi leading the group's rehearsal sessions," Maisler says. "Later, we swapped other actors in and out of the foursome as an experiment, but we kept reuniting that original foursome, and ultimately, Paul cast them in the movie. He was impressed, as we all were, by their talent and chemistry and commitment to the film."

"The final hurdle was a meeting with Greengrass and Maisler in Los Angeles. After the meeting, they went for a walk on the beach: the four actors, Greengrass, and Maisler. Maisler recalls, "It wasn't quite clear if they realized that they had been cast, so Paul told them, 'You guys know—you have the parts.' 'No, nobody told us.' 'Well, you have it.' They were so ecstatic that they ran, fully clothed, into the ocean, celebrating. It was one of the most pure moments of joy I've ever seen." Says Ahmed: "We just had to jump into the sea to make sure it was true."

"When I saw them, they were friends and had worked together as a group," Greengrass says. "There was something about them that already looked and felt like a crew." None of the four had any formal film experience, but they were determined to give their characters a tangible humanity. "The degree of intensity they projected and the nuances of character they found were incredible—and the ability to do all of that opposite the extraordinary power of Tom Hanks was something special," says Greengrass.

"The director's orchestration of the fraught initial encounter between the pirates and the Maersk crew provides an example of the methods Greengrass used to help the actors reach an added level of realism: Greengrass made the decision to keep the actors playing the seamen from having any contact with the Somali-American actors who would play the men taking over the ship. They never met until the moment they shot the scene of the pirates entering the bridge.

"It was a smart thing Paul did, that we never met each other," explains Hanks. "We didn't have readings or dinners, so they were these shadowy guys to us, and when they storm the bridge, the verisimilitude was just incalculable. The hair stood up on the backs of our necks." Says Greengrass of the scene: "Since they had never met, shooting it that way was a 'once-only' moment—we had to get it in that first take. And we did. It was incredible. Tom and Barkhad did that long scene with such depth and humanity that when it was over, everyone on the set applauded."

"Opening across the Philippines in October 23, Captain Phillips is distributed by Columbia Pictures, local office of Sony Pictures Releasing International."


Ed's Note: When content falls under "Press Statement," this means that the material is fully and directly from the company issuing the press release. The use of open-and-close quotation marks to envelope the entire text shows as much. This also means that PEP is not the author of the statement being read. PEP is simply providing the information for readers who may be interested.
ADVERTISEMENT - CONTINUE READING BELOW