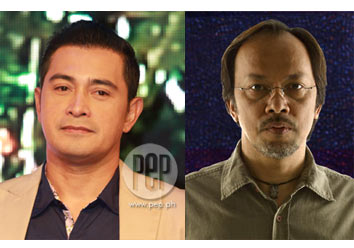 ---

Cesar Montano and Noel Cabangon are spearheading a fund-raising concert billed Sagip Bohol to benefit the victims of the recent Bohol quake that killed nearly 200 people and displaced thousands of our kababayans.
The show will take place on October 25, 8 p.m., at Teatrino in Greenhills. The venue was donated for the cause absolutely free of charge by owner Ms. Precy Florentino.
Guests include Dingdong Dantes, Aiza Seguerra, Ely Buendia, Giselle Sanchez, Luke Mejares, Leo Valdez, Marco Sison, Rocco Nacino, Al Tantay, Anthony Castelo, Jeff Tam, Brod Pete, Alvin Anson, Diego Loyzaga, Zoo Band, Heber Bartolome, Nyoy Volante, Jonathan Badon, Dante Ponce, River Maya, Lazaro, Sabado Boys, River Maya, Dingdong Avanzado, Jessa Zaragoza, Jimmy Bondoc, Paolo Santos, Dulce, and the Tres Marias (composed of Lolita Carbon, Bayang Barrios and Cookie Chua). They immediately answered the call for help sent out by the organizers. Maestro Nonong Buencamino will be the event's musical director.
ADVERTISEMENT - CONTINUE READING BELOW
Boy Abunda, although he couldn't be present during the concert, has made a pledge of cash donation under his Make Your Mama Proud Foundation. Other donors are Mr. and Mrs. Bobby Laurel and Mr. and Mrs. Butch Jimenez.
The event is primarily for those who have made donations and pledges to the cause. However, there is a limited number of tickets (100 pieces only) for those who want to watch the show at P1,000 each. Special limited seats are also available. For inquiries, please call Shirley Pizarro (09209133822) or Panaghoy Children Foundation secretary Marivic Pancho (0928-2397523 or 871-2563), or the Teatrino box-office (7212949, 7216726).
Cesar said the immediate need of his fellow Boholanos are food and water. "Most roads remain impassable, which is the biggest problem to be hurdled. Most relief goods are being brought in by pump boats. Only towns along coastal areas are the ones that are being reached by relief goods so far. Help does not reach areas that have suffered the worse devastation," he was quoted as saying in a press release.
ADVERTISEMENT - CONTINUE READING BELOW

The actor, who immediately flew to Bohol and distributed food and water to his fellow Boholanos, calls on everyone who can give help, especially to transport the relief goods. To those who are able, Cesar said, "Chopper is the best way to reach the identified places of Loon, Sagbayan, Tubigon and Clarin in interior Bohol. I'd like to call on those private individuals, or even the AFP, who can lend us their choppers. Our kababayans are going hungry," he said.
In the meantime, Cesar said proceeds from the fundraising concert will be used to provide more food and water, blankets, and other personal effects that the victims need.