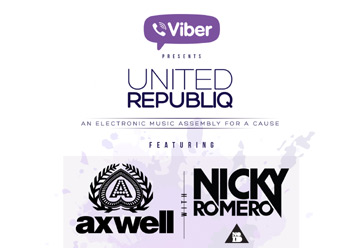 ---


Coming together in an effort to provide relief for the victims of Typhoon Yolanda, three of the country's biggest EDM event producers—Republiq, Worldwide Womb and Driven—have teamed up with the multiplatform online messenger, VOiP, and video chat app Viber to present United Republiq: An Electronic Music Assembly For A Cause with all proceeds from the music festival to be donated to the typhoon victims.

Headlining the event are three world-renowned DJs Axwell, Nicky Romero and Dutch duo NO_ID along with a few of Manila's favorites Ace Ramos, Mars Miranda, Martin Pulgar and Marc Naval.

All international and local DJs have donated their talent fees towards the cause totaling an estimated P7,000,000.

United Republiq will take place on the 21st of November 2013 at the Mall of Asia Concert Grounds.

"The Filipino spirit is strongest when we are one; as a united country", as stated by the organizers and they hope that through this event, fans of the artists and followers of Republiq may be able to contribute to the country's rebuilding process.

For those hoping to support the event raising additional funds, tickets for United Republiq are available on SM Tickets at www.smtickets.com or (632) Tel. No. 470-2222.


United Republiq is presented to you by VIBER in cooperation with Fox International Channels, Red Bull, Greenwich, Hennessy, Guess, and SM Accessories; with special thanks to the event partners, who have significantly contributed their resources in support of the Yolanda victims, PMX, Stageline, Stage Master, Stage Riggers, Confetti Effects, Digital Fusion, L Acoustics, Powerplant, Audio Video Solutions Corp. and to the official venue sponsor SM Mall of Asia; together with media partners MYX, The Official Music Channel, the Philippine Star, Manila Bulletin, Inquirer.net, FHM.com.ph, PEP.ph, Spot.ph, Wheninmanila.com, Juice.ph, Circuit, and Manila Concert Scene. This is a production of Republiq, Worldwide Womb, Driven, and Woosah Studios.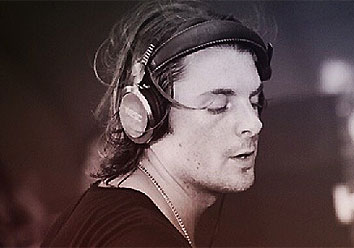 DJ Axwell will be part of United Republiq, which will take place on November 21, 2013 at the Mall of Asia Concert Grounds.


ADVERTISEMENT - CONTINUE READING BELOW