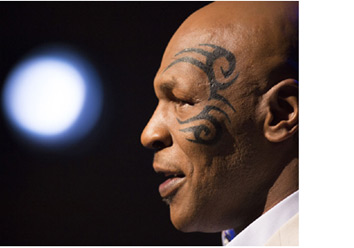 ---


Legendary filmmaker Spike Lee and former heavyweight champion Mike Tyson bring to our screens the hit one-man stage show, Mike Tyson: Undisputed Truth.

Filmed in New York, this HBO Original will premiere in Asia on Sunday, November 24, at 10 pm, exclusively on HBO SIGNATURE / HBO SIGNATURE HD, within a week after its U.S. debut.

Raw, honest, powerful and full of humor, the stage production of Mike Tyson: Undisputed Truth features "Iron Mike" recounting his life's highs and lows in his signature candid style. He opens up about his troubled youth, landmark boxing career, key people in his life, controversies, time in prison, self-examination, family and new beginnings.

"I'm incredibly grateful to HBO for partnering with me and for believing in my story," said Tyson. "It is an honor and a privilege to be working with them to bring my one-man show, Undisputed Truth, to life on the television screen."

During a press tour for the show, Mike said the feeling of performing on stage is similar to being in a boxing match.

"Once I got on the stage, I felt -- I felt the energy from the crowd, I felt—I felt just as if I was in a live fight. I felt—I felt what they—when the time they wanted me to talk, when they wanted to laugh, when they wanted to cry."

For his part, Lee revealed that he considers Mike as "the most honest human being I've ever met in my life."

He said about the show: "It was my honor and pleasure to share with Mike Tyson our Broadway debut."

Michael Lombardo, president, HBO Programming, describes the project as a "fascinating journey into his storied life and career, and we are thrilled to have Spike Lee bring it from the stage to the screen for our viewers."

Reviewing the stage production, the Los Angeles Times called Tyson "a riveting stage presence with compelling stories to tell" and New York's Daily News described his show as "entertaining" and "fascinating," adding that he "is gifted with iron-clad charisma."

Mike Tyson: Undisputed Truth is executive produced by Spike Lee, Mike Tyson, Kiki Tyson, Jon Kilik and James Nederlander; directed by Spike Lee; written by Kiki Tyson.

Catch the Asian premiere of Mike Tyson: Undisputed Truth on Sunday, November 24, at 10 pm on HBO Signature / HBO Signature HD.

Other playtimes on HBO Signature: Friday, December 6 (1:45pm) and Wednesday, December 18 (3:30pm).
ADVERTISEMENT - CONTINUE READING BELOW