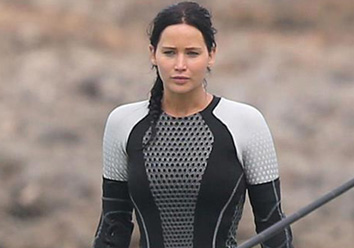 ---

Startalk host and columnist Ricky Lo had a chance to have exclusive interviews with the stars of upcoming movie The Hunger Games: Catching Fire.


Jennifer Lawrence and Josh Hutcherson, the two stars who play the much-loved Katniss Everdeen and Peeta Mellark, looked back on their experiences of working together.


They previously starred in the first installment of The Hunger Games, which was released in 2012.


In the film, their characters Katniss and Peeta are forced to fight in the Hunger Games, a brutal competition wherein children are forced to murder one another. The two contenders are able to survive the bloodbath, making them winners in this violent competition spearheaded by a totalitarian regime.


"It was really great," said Hutcherson, smiling at his co-star. "It's so much fun. We're sad it's coming to an end."


Though their collaboration will continue until the eventual filming and release of the series' third and fourth installments, Lawrence also found herself reflecting on the film and how she coped with life after accepting the role of such a strong and brave character.


"I'd love to to compare myself to Katniss, I have things that I can be brave about," said the 23-year-old actress with a laugh.


"But now, I actually wish I had a lot more in common with Katniss.


"I stayed very close to my really close friends and family. I just kind of stayed inside for a very long time."



When Lawrence was 22 years old, her performance in the romantic comedy Silver Linings Playbook (2012) earned for her the Academy Award, Golden Globe Award, Screen Actors Guild Award, Satellite Award and the Independent Spirit Award for Best Actress.


Veteran actor Donald Sutherland, who plays President Snow in the film, also heaped praises on his young co-star.


"Jennifer's a little different because she's 138 years old," he enthused, eliciting laughter from those present. "She just is the most stable, she's extraordinary."


Elizabeth Banks, known for her role as Effie Trinket in the film, even called Lawrence a role model for young people.


"If this Katniss is an amazing, heroic role, I think Jennifer takes the responsibility of being a role model very seriously, in that she's a stand-up person and wants to deliver something great for young people around the world," she said.


The Hunger Games: Catching Fire is slated to open in Philippine cinemas on November 21, 2013.



ADVERTISEMENT - CONTINUE READING BELOW
SHARE THIS STORY " data-url="https://www.pep.ph/guide/at-a-glance/12909/jennifer-lawrence-i-actually-wish-i-had-a-lot-more-in-common-with-katniss" data-desc=""I'd love to to compare myself to Katniss, I have things that I can be brave about," says Jennifer Lawrence about her cha" data-image="https://contents.pep.ph/images2/guide/1384941040_jennifer-lawrence.jpg"> " data-url="https://www.pep.ph/guide/at-a-glance/12909/jennifer-lawrence-i-actually-wish-i-had-a-lot-more-in-common-with-katniss" data-desc=""I'd love to to compare myself to Katniss, I have things that I can be brave about," says Jennifer Lawrence about her cha" data-image="https://contents.pep.ph/images2/guide/1384941040_jennifer-lawrence.jpg"> " data-url="https://www.pep.ph/guide/at-a-glance/12909/jennifer-lawrence-i-actually-wish-i-had-a-lot-more-in-common-with-katniss" data-desc=""I'd love to to compare myself to Katniss, I have things that I can be brave about," says Jennifer Lawrence about her cha" data-image="https://contents.pep.ph/images2/guide/1384941040_jennifer-lawrence.jpg">
SHARE THIS STORY
" data-url="https://www.pep.ph/guide/at-a-glance/12909/jennifer-lawrence-i-actually-wish-i-had-a-lot-more-in-common-with-katniss" data-desc=""I'd love to to compare myself to Katniss, I have things that I can be brave about," says Jennifer Lawrence about her cha" data-image="https://contents.pep.ph/images2/guide/1384941040_jennifer-lawrence.jpg"> " data-url="https://www.pep.ph/guide/at-a-glance/12909/jennifer-lawrence-i-actually-wish-i-had-a-lot-more-in-common-with-katniss" data-desc=""I'd love to to compare myself to Katniss, I have things that I can be brave about," says Jennifer Lawrence about her cha" data-image="https://contents.pep.ph/images2/guide/1384941040_jennifer-lawrence.jpg"> " data-url="https://www.pep.ph/guide/at-a-glance/12909/jennifer-lawrence-i-actually-wish-i-had-a-lot-more-in-common-with-katniss" data-desc=""I'd love to to compare myself to Katniss, I have things that I can be brave about," says Jennifer Lawrence about her cha" data-image="https://contents.pep.ph/images2/guide/1384941040_jennifer-lawrence.jpg"> " data-url="https://www.pep.ph/guide/at-a-glance/12909/jennifer-lawrence-i-actually-wish-i-had-a-lot-more-in-common-with-katniss" data-desc=""I'd love to to compare myself to Katniss, I have things that I can be brave about," says Jennifer Lawrence about her cha" data-image="https://contents.pep.ph/images2/guide/1384941040_jennifer-lawrence.jpg">