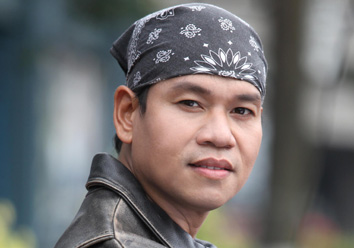 ---


PRESS STATEMENT FROM GMA-7, published as is:


How far can you go for the love of your family? Will you risk your life for them?



For Dexter, 23 years old, he has been risking his life for six years now. Earning as a motorcycle rider performing stunts inside a so-called "Wall of Death," a domelike structure that serves as a main attraction in carnivals.



This 90 degree-wooden-wall is a structure built specifically for this unusual motorcycle ride. According to the management of the carnival, they only have two ongoing attractions in the Philippines. And Dexter's father, Alex, was the first Filipino ever to learn the stunt. He was taught by a group of Thais. Dexter stopped going to school just to take over his father's job when the latter suffered a stroke.



Now, some say Dexter has become adept in his motorcycle riding skills.



But every performance is a challenge. Every stunt is a risk that Dexter and his brother, Darryl, have to take.



This Monday night, join Jay Taruc in "Wall of Death", the final installment to I-Witness' 14th Anniversary special.


ADVERTISEMENT - CONTINUE READING BELOW