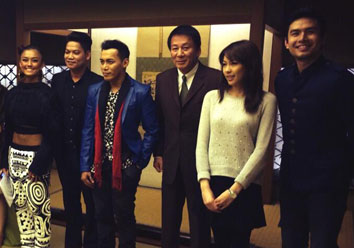 ---

Christian Bautista had the chance to meet up with top singers from Southeast Asia during the ASEAN Japan Music Fair held last November 28, 2013.


The prestigious music festival was aired in Japan nationwide live from the NHK Studio.


In his Twitter account, Christian posted: "Japan, Myanmar, Laos, Burma, Vietnam, Cambodia, Brunei, Singapore, Thailand, Indonesia, Philippines: we are one."


Christian performed two solo numbers from his top hits that are popular in the ASEAN region.

As the representative of the Philippines, Christian was also tasked to be part of a production number featuring other renowned performers in the region.