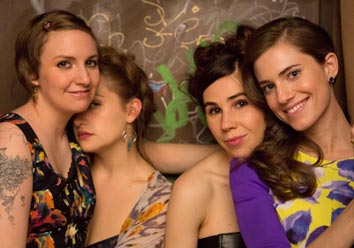 ---
PHOTO CAPTION: The lead stars of Girls



PRESS STATEMENT FROM HBO, published as is:


HBO Asia has unveiled a tantalizing slate of new and returning original programs airing across its channels in 2014, all of which will premiere in Asia within a week of their debut in the United States.

The Normal Heart, a new HBO Original Movie starring Julia Roberts and Mark Ruffalo, will air in 2014; along with True Detective, a brand new HBO Original Series starring Matthew McConaughey, Woody Harrelson and Michelle Monaghan; a four-part HBO Miniseries, Olive Kitteridge; The Knick, a Cinemax Original Series with Steven Soderbergh and Clive Owen; and more.

2014 will also see hit series returning to HBO Asia's network of channels with new seasons: Banshee, Boardwalk Empire, Game of Thrones, Girls, The Newsroom, True Blood, Profugos, Strike Back, and Veep.




NEW HBO AND CINEMAX ORIGINALS


TRUE DETECTIVE
Premieres Sunday, January 19 at 9pm on HBO
Matthew McConaughey and Woody Harrelson star in this new one-hour HBO drama series as Rust Cohle and Martin Hart, two Louisiana detectives whose lives collide and entwine during a 17-year hunt for a killer. The investigation of a bizarre murder in 1995 is framed and interlaced with the testimony and story of the detectives in 2012, when the case is reopened. This eight-episode anthology series also stars Michelle Monaghan as Hart's wife Maggie, who struggles to keep her family together as the men in her life become locked in a cycle of violence and obsession.


DEEP TECH
Premieres in 2014
This new half-hour HBO Original Series is set in the high-tech gold rush of modern Silicon Valley, where the people most qualified to succeed are the least capable of handling success. Starring Martin Starr, Morgan Krantz, Nelson Franklin, Thomas Middleditch, Eva Amurri Martino, Lindsey Broad, TJ Miller, Josh Brener, Christopher Evan Welch, Amanda Crew, Angela Trimbur, Zach Woods and Kumail Nanijani.


THE NORMAL HEART
Premieres in 2014
Starring Academy Award® winner Julia Roberts and Academy Award® nominee Mark Ruffalo and directed by Emmy® winner Ryan Murphy, this new HBO Original Movie tells the story of the onset of the HIV-AIDS crisis in New York City in the early 1980s, taking an unflinching look at the nation's sexual politics as gay activists and their allies in the medical community fought to expose the truth about the burgeoning epidemic to a city in denial. Written by Larry Kramer, THE NORMAL HEART is an adaptation of his groundbreaking Tony Award winning play of the same name.


THE KNICK
Premieres in 2014
Academy Award® winner and Emmy® nominee Steven Soderbergh will direct Academy Award® and Emmy® nominee Clive Owen in the ten-episode season of this new Cinemax Original Series. Set in downtown New York in 1900, THE KNICK centers on Knickerbocker Hospital and the groundbreaking surgeons, nurses and staff, who push the bounds of medicine in a time of astonishingly high mortality rates and zero antibiotics.


OLIVE KITTERIDGE
Premieres in 2014
Based on the book of the same name by Elizabeth Trout, this four-part HBO Miniseries stars Frances McDormand and Richard Jenkins.

JONAH: FRESH OFF THE BOAT
Premieres in 2014
Jonah says, "This is a TV show about me, my fresh start in Australia, and all the good and bad that happens to me." Chris Lilley stars in this new half-hour HBO Original Series.


RETURNING SERIES


BANSHEE
Season two premieres Friday, January 17 at 10pm on Cinemax
This Emmy® winning Cinemax Original Series executive produced by Academy Award® winner Alan Ball, Peter Macdissi, Jonathan Tropper, David Schickler and Greg Yaitanes, returns for its ten-episode second season with Antony Starr as Lucas Hood, an ex-con and master thief who assumes the identity of the sheriff of Banshee, Pa., where he continues his criminal activities even as he's being hunted by the shadowy gangsters he betrayed years earlier.

Other returning cast regulars include Ivana Milicevic, Ulrich Thomsen and Frankie Faison. New guest stars this season include Zeljko Ivanek as Jim Racine, a chain-smoking, renegade FBI agent who has been tracking Rabbit for 15 years; Tatanka Means as Hoyt Rivers, head of security for Alex Longshadow; and Julian Sands as Rabbit's younger brother, a brilliant, devout and amoral Ukrainian priest who is just as dangerous.


GIRLS
Season three premieres Sunday, January 19 at 10pm on HBO Signature
Created by and starring Lena Dunham, this Emmy® winning HBO Original Series is a comic look at the assorted humiliations and rare triumphs of a group of girls in their 20s. Dunham executive produces along with Judd Apatow, Jenni Konner and Ilene S. Landress; Bruce Eric Kaplan is consulting producer. The cast also includes Jemima Kirke, Allison Williams, Zosia Mamet, Adam Driver and Alex Karpovsky.



GAME OF THRONES
Season four premieres in 2014
Based on the bestselling fantasy book series by George R.R. Martin, this Emmy® and Golden Globe® winning HBO Original Series is an epic story of treachery and nobility set on the continent of Westeros, where summers and winters can last years, and only the lust for power is eternal.


PRÓFUGOS
Season two premieres in 2014
At the end of the first season, little was left of the Ferragut Cartel. Kika Ferragut, the Cartel's leader, and Oscar Salamanca died unexpectedly, while Mario Moreno, Álvaro Parraguez "Tegui", and Vicente Ferragut were betrayed by Laura Ferragut who fled with the loot, leaving her associates in the hands of the police.

Produced by HBO Latin America and filmed in Chile, this 13 episode hour-long second season of PRÓFUGOS kicks off in completely different settings: the cruel and dangerous maximum-security prison where Moreno, Vicente, and Tegui struggle to survive, and the paradise that is Easter Island, where Laura continues in the drug trafficking business, creating a cartel of grand proportions.

VEEP
Season three premieres in 2014
Created by Armando Iannucci (Academy Award® nominee for In the Loop), Emmy® winner Julia Louis-Dreyfus returns in this ten-episode third season as Vice President of the United States Selina Meyer, who discovers the job is nothing like she expected, but everything she was warned about.

The ensemble cast of the show also includes Tony Hale as Gary, Vice President Meyer's right-hand man; Anna Chlumsky as Amy, her chief of staff; Reid Scott as Dan, an ambitious political aide; Matt Walsh as Mike, Vice President Meyer's weathered spokesperson; Timothy C. Simons as Jonah, an enterprising but annoying White House liaison; Sufe Bradshaw as Sue, Vice President Meyer's executive assistant; and Kevin Dunn as Ben, the president's chief of staff.

TRUE BLOOD
Seventh and final season premieres in 2014
Mixing romance, suspense, mystery and humor, the show takes place in a world where vampires and humans co-exist, after vampires have come out of the coffin, thanks to the invention of mass-produced synthetic blood that means they no longer need humans as a nutritional source.


The ten-episode last season of TRUE BLOOD continues to follow waitress and part-faerie Sookie Stackhouse (Anna Paquin), who can hear people's thoughts, vampire Bill Compton (Stephen Moyer) and vampire Eric Northman (Alexander Skarsgård). Academy Award® winner Alan Ball (creator of the Emmy® winning HBO series Six Feet Under) created the show, which is based on the bestselling Sookie Stackhouse novels by Charlaine Harris.


THE NEWSROOM
Season three premieres in 2014
Created by Academy Award® winning Aaron Sorkin, this Emmy® winning HBO drama series, set at the fictional cable network ACN, follows the "News Night" team on their quixotic mission to do the news well in the face of a fickle audience, corporate mandates and tangled personal relationships. THE NEWSROOM stars Emmy® winner Jeff Daniels and Emily Mortimer.


BOARDWALK EMPIRE
Season five premieres in 2014
From Terence Winter, Emmy® winning writer of The Sopranos and Academy Award® winning director Martin Scorsese, this Emmy® and Golden Globe® winning HBO Original Series is set in the 1920s during Prohibition, and chronicles the life and times of Enoch "Nucky" Thompson, the undisputed leader of Atlantic City.


STRIKE BACK
Fourth and final season premieres in 2014
This Emmy® nominated action series will return to Cinemax for a fourth and final season of ten new episodes, which will shoot in Asia and Europe. STRIKE BACK follows an unlikely pair of operatives in the stealth counterterrorism unit Section 20: Sgt. Michael Stonebridge (Philip Winchester), an exceptional British Special Forces (SBS) soldier, and the less-conventional Damien Scott (Sullivan Stapleton), a former US Delta Force member.
ADVERTISEMENT - CONTINUE READING BELOW