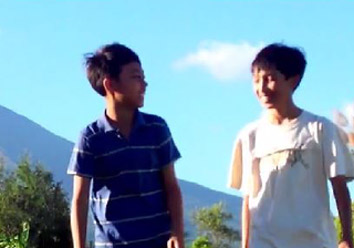 ---
PHOTO CAPTION: A scene from Gapatak, a short film by Pag-asa National High School student Jaycee Esmeria.



PRESS STATEMENT, published as is:


The 2nd Cinephone Film Festival has officially opened the public voting for 60 student films shot on phones tackling the theme, "The Youth's Eco-friendly Ways to Protect Mother Earth."



Organized by the Metro Manila Development Authority (MMDA) in partnership with Smart Communications Inc. (Smart), the Cinephone competition challenges high school and college students nationwide to showcase their talent in telling themed stories through their phone cameras.



This year, the finalists were chosen from over a thousand entries nationwide, and may be viewed on www.cinephone.ph.



Each entry has an assigned letter for voting purposes. Aside from casting their votes on the website, the public may also use their phones to support their chosen films by texting CINEPHONE2013POLLletter of choice (For example: CINEPHONE2013 POLL A) and send to 9977.



Under contest rules, the short films should run under three minutes, and would be judged according to votes garnered from the online and text poll, as well as creativity, innovation and technical merits to be decided by a panel of judges.



The Cinephone Festival is a prelude to the annual Metro Manila Film Festival (MMFF), and is part of the New Wave student category.



This year's theme could not have come at a better time, according to MMDA chair Francis Tolentino. "The recent natural calamity in our country has brought environmental issues to the fore once again. With this year's contest, we wish to stir awareness through short films made by budding filmmakers from their own generation," he said.



Smart Public Affairs Head Ramon Isberto also urged the finalists to continue making use of available technology as a positive outlet for their talent.



"Never before did we have an opportunity to create really powerful videos through our cellphones. As future film practitioners, may you use your digital devices to take videos that will form people's lives and tell stories of our families, communities and our country," Isberto said.



To aid the finalists in producing their films, Smart has equipped them with Smart Bro Starter Plug-It kits, which provides fast and reliable broadband connection. Filipino mobile brand MyPhone also gave them handsets for their film production needs.



The finalists also went through a crash course in filmmaking under award-winning film director Paul Soriano and Philippine Center for Creative Imaging film editor-trainor Santiago Lucero.



"I think the generation today are very fortunate because they can easily shoot HD films using their phones and upload them online. They have all the tools," said Soriano, who won a directorial award for his 2011 film, Thelma. Soriano also heads the film production outfit TEN17P, another partner of MMDA for Cinephone.



"But despite these tools, we still have to teach them how to tell good stories and make great messages, which is what the Cinephone contest is all about," he added.



The winners of the competition will receive prizes from the MMDA, smartphone kits from Smart Prepaid and will be entitled to film production apprenticeship care of TV5.



The awarding of winners will coincide with the MMFF awards night on December 27.



Vote for your favorite student film at cinephone.ph. Voting ends on December 18.
ADVERTISEMENT - CONTINUE READING BELOW