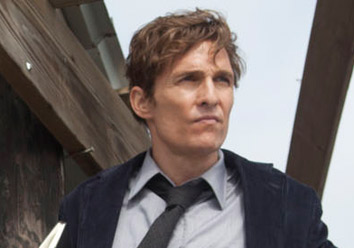 ---

PRESS STATEMENT FROM HBO:


Shot on location in Louisiana, the brand new HBO Original drama series True Detective begins its eight-episode season in Asia within a week of its US premiere, on Sunday, January 19, at 9pm, exclusively on HBO / HBO HD. A new hour-long episode premieres every Sunday at the same time.

Golden Globe nominee Matthew McConaughey and Academy Award nominee Woody Harrelson play Rust Cohle and Martin Hart respectively in the show. Starring alongside them is Michelle Monaghan as Hart's wife, Maggie, who struggles to keep her family together as the men in her life spiral into cycles of obsession and violence.

1995: Detectives Martin Hart and Rust Cohle, partners in Louisiana's Criminal Investigation Division, are assigned to a macabre murder by a killer with disturbing occult leanings. As they attempt to uncover the secrets of this bizarre crime, their own lives collide and intertwine in unexpected, sometimes catastrophic ways.

2012: When a similar case leads to an investigation of the original '95 murder by two new detectives, Martin and Rust separately tell the story of both the investigation and their lives, including why Cohle left CID in 2002.

Alternating between 1995, 2002 and 2012, all eight episodes were written by series creator and novelist Nic Pizzolatto and directed by Cary Joji Fukunaga (Jane Eyre), who executive produce along with Scott Stephens, Matthew McConaughey, Woody Harrelson and Steve Golin.

At first glance, Martin Hart and Rust Cohle couldn't be more different. Hart, a native Louisianan, is an outgoing family man with two kids, whose marriage is buckling under the stress of the job. Cohle, a former undercover narcotics detective from Texas, embraces isolation, articulating a pessimistic, even bleak, world view. But they share an obsession with justice and a facility for violence that will inflict irreparable damage on both men.

Also featured in True Detective are Kevin Dunn (HBO's Luck) as Major Quesada, Hart and Cohle's boss; Tory Kittles (Sons of Anarch) and Michael Potts (HBO's The Wire) as detectives Papania and Gilbough, in charge of the 2012 investigation; Elizabeth Reaser (The Twilight Saga: Breaking Dawn) as Laurie; Shea Whigham (HBO's Boardwalk Empire) as revivalist Joel Theriot; Clarke Peters (HBO's Treme) as a rural minister; Jay O. Sanders (Person of Interest) as Billy Lee Tuttle; and Lili Simmons (CINEMAX's Banshee) as Beth, a prostitute.
ADVERTISEMENT - CONTINUE READING BELOW