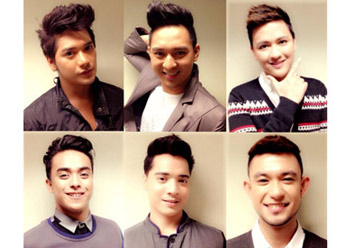 ---


PRESS STATEMENT FROM ABS-CBN:


It's now the turn of gay men with spanking good looks, wit, and talent to take the spotlight not as beauty queens but as heartthrobs as the country's leading noontime program It's Showtime launched its newest hit segment "I Am PoGay."
Following the success of "That's My Tomboy," It's Showtime launched the pageant for gay men and became an instant hit among studio audience and netizens.
"I Am PoGay" made a buzz online even before it was officially launched after its teaser aired last week. Viewers tuned in to see the pageant's first contestants last Saturday (January 18) as the hashtag #IAmPoGay landed the top spot on the list of Twitter's trending topics worldwide.
Those who want to audition for "I Am PoGay" can go to ABS-CBN Audience Entrance in Quezon City and look for Danjosh Zacarias from Mondays to Fridays, 3-6PM and bring a valid ID, pictures, and audition materials.
ADVERTISEMENT - CONTINUE READING BELOW
Hopefuls can also audition online by sending their photos and contact information to iampogay@gmail.com.
Stay tuned to It's Showtime, hosted by Anne Curtis, Vice Ganda, Vhong Navarro, Billy Crawford, Karylle, Kuya Kim Atienza, Teddy Corpuz, Jugs Jugueta, Jhong Hilario, Ryan Bang, Coleen Garcia, at Eric "Eruption" Tai, at 12:30 PM and on Saturdays at 12NN on ABS-CBN.


SHARE THIS STORY " data-url="https://www.pep.ph/guide/at-a-glance/13285/its-showtime-puts-spotlight-on-gay-men-in-i-am-pogay-pageant" data-desc="Find out how interested parties can join It's Showtime's "I Am PoGay" contest." data-image="https://contents.pep.ph/images2/guide/1390729415_I-AM-POGAY-top.jpg"> " data-url="https://www.pep.ph/guide/at-a-glance/13285/its-showtime-puts-spotlight-on-gay-men-in-i-am-pogay-pageant" data-desc="Find out how interested parties can join It's Showtime's "I Am PoGay" contest." data-image="https://contents.pep.ph/images2/guide/1390729415_I-AM-POGAY-top.jpg"> " data-url="https://www.pep.ph/guide/at-a-glance/13285/its-showtime-puts-spotlight-on-gay-men-in-i-am-pogay-pageant" data-desc="Find out how interested parties can join It's Showtime's "I Am PoGay" contest." data-image="https://contents.pep.ph/images2/guide/1390729415_I-AM-POGAY-top.jpg">
SHARE THIS STORY
" data-url="https://www.pep.ph/guide/at-a-glance/13285/its-showtime-puts-spotlight-on-gay-men-in-i-am-pogay-pageant" data-desc="Find out how interested parties can join It's Showtime's "I Am PoGay" contest." data-image="https://contents.pep.ph/images2/guide/1390729415_I-AM-POGAY-top.jpg"> " data-url="https://www.pep.ph/guide/at-a-glance/13285/its-showtime-puts-spotlight-on-gay-men-in-i-am-pogay-pageant" data-desc="Find out how interested parties can join It's Showtime's "I Am PoGay" contest." data-image="https://contents.pep.ph/images2/guide/1390729415_I-AM-POGAY-top.jpg"> " data-url="https://www.pep.ph/guide/at-a-glance/13285/its-showtime-puts-spotlight-on-gay-men-in-i-am-pogay-pageant" data-desc="Find out how interested parties can join It's Showtime's "I Am PoGay" contest." data-image="https://contents.pep.ph/images2/guide/1390729415_I-AM-POGAY-top.jpg"> " data-url="https://www.pep.ph/guide/at-a-glance/13285/its-showtime-puts-spotlight-on-gay-men-in-i-am-pogay-pageant" data-desc="Find out how interested parties can join It's Showtime's "I Am PoGay" contest." data-image="https://contents.pep.ph/images2/guide/1390729415_I-AM-POGAY-top.jpg">