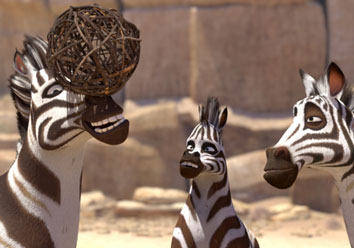 ---


A zebra is born with only half his stripes into an insular, superstitious herd. Khumba (Jake T. Austin) is immediately ostracized by all the zebras except for his parents and, Tombi (Anna Sophia Robb) a feisty tomboy. In the midst of a drought, a mystical mantis appears to him and draws a map to the legendary waterhole in which the first zebras bathed in and came out striped. When Khumba is blamed for the lack of rain and the subsequent death of his mother, the outcast zebra leaves the confines of his home in search of the waterhole.

Khumba ventures beyond the fence—vulnerable to the tyrannical leopard, Phango (Liam Neeson) who terrorizes all the animals in the Great Karoo. Born blind in one eye and rejected by his family when he was just a cub has made Phango obsessed with being whole. Phango is highly superstitious and, unbeknown to Khumba, has been waiting for the half-striped zebra, which, according to an ancient myth will make him the most powerful hunter that ever lived.

After a close shave with an opportunistic Wild Dog (Steve Buscemi), Khumba teams up with a quirky duo: a hefty, overprotective wildebeest called Mama V (Loretta Devine) and Bradley (Richard E. Grant), a flamboyant but insecure ostrich. The duo join Khumba on his quest in the hope that their own search for a safe waterhole is over, unaware that Phango is on their trail.

On their journey, Khumba encounters a wacky array of characters including a migrating herd of Springbok in search of greener (and safer) pastures; a bohemian community living safely within the confines of a luxurious national park; an endangered Riverine Rabbit who's determination to survive has clearly gone to his head; a Dooms Day cult of Dassies (i.e. rock-rabbits) who fanatically worship the Mighty Black Eagle and a loony, solitary Sheep (Catherine Tate) living on an abandoned farm.

Tensions between the trio escalate as the stakes are raised with each step of the journey and after discovering that the map leads straight to Phango's lair—the trio fall-out and Khumba continues on his quest alone. Lost and delirious in a saltpan, Khumba is rescued by the wise, Gemsbok Healer.

Having intercepted Mama V and Bradley, Phango discovers that Khumba is fortuitously heading straight to him and returns to his cave. Concerned for Khumba's safety, Mama V and Bradley decide to turn back and warn him. Back at the herd, Khumba's father, Seko (Laurence Fishburne) who has become withdrawn after believing his son to be dead, is remorseful that he has let his herd down. With Tombi's help, he realises that if he does not lead his herd in search of another waterhole, they will all die.

Outside of the fence, Tombi and Seko are amazed to discover that Khumba is alive but heading to Phango! Meanwhile, determined to find the waterhole and get his stripes, Khumba ventures into the leopard's lair, leading him to have a hair-raising, epic battle.



Khumba, released and distributed by Captive Cinema, will be shown in Philippine cinemas by February 12, 2014.
ADVERTISEMENT - CONTINUE READING BELOW