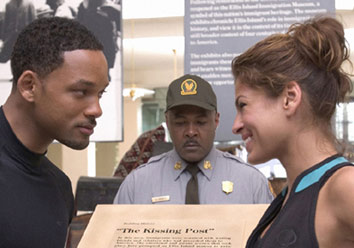 ---

PRESS STATEMENT FROM HBO:


HBO spreads the love on Valentine's Day with a line-up of titles that's sure to add a little more tenderness into everybody. On HBO / HBO HD this February 14, romantic comedies and dramas will air back to back – starting with The Five Year Engagement from 12am, and culminating with the Asian television premiere of This is 40 at 10pm.

Here is the complete schedule of all the movies lined up on HBO for Valentine's Day, along with additional information on each title below:

Friday, 14 February 2014

12:00 AM THE FIVE-YEAR ENGAGEMENT
2:00 AM LIKE CRAZY
3:30 AM MESSAGE IN A BOTTLE
5:45 AM THE HOLIDAY
8:00 AM HOW TO LOSE A GUY IN 10 DAYS
9:50 AM THE NOTEBOOK
11:55 AM WIN A DATE WITH TAD HAMILTON!
1:30 PM BRIDGET JONES'S DIARY
3:05 PM BRIDGET JONES: THE EDGE OF REASON
4:50 PM THE LAKE HOUSE
6:30 PM WHEN IN ROME
8:00 PM HITCH
10:00 PM THIS IS 40


THIS IS 40
10pm on HBO / HBO HD
Both Pete and Debbie are about to turn 40! With their kids hating each other, both of their businesses failing, the couple is on the verge of losing their house and their already estranged relationship. The film stars Paul Rudd, Leslie Mann and Maude Apatow.

THE FIVE-YEAR ENGAGEMENT
12.00am on HBO / HBO HD
A romantic comedy about a young couple who take a little longer than expected getting to 'I do'. It's a bumpy road to matrimony and the affianced duo — he's a chef and she's an academic — weathers their share of challenges that include several moves across the country, romantic competition and even a break-up. THE FIVE-YEAR ENGAGEMENT stars Jason Segel, Emily Blunt and Rhys Ifans

LIKE CRAZY
2.00am on HBO / HBO HD
A British college student falls for an American student, only to be separated from him when she gets banned from the U.S. after overstaying her visa. The cast of LIKE CRAZY includes Felicity Jones, Anton Yelchin, and Jennifer Lawrence.

MESSAGE IN A BOTTLE
3.30am on HBO / HBO HD
A heart-warming romance about love lost and love found based on the novel by Nicholas Sparks. Walking alone on deserted stretch of beach, a woman finds a bottle containing a moving, passionate letter, signed simply, "G." The letter's poetry and heartache compel her to begin a search for the author that eventually leads to a sailboat builder on the Outer Banks of North Carolina--and a chance for both to find love. MESSAGE IN A BOTTLE stars Kevin Costner, Robin Wright-Penn and Paul Newman.

THE HOLIDAY
5.45am on HBO / HBO HD
Two women with problems in love, Iris and Amanda, meet on the Internet and exchange houses to change their lifestyles. With Iris heading to California and Amanda moving to a traditional English countryside, respective romances brew and both ladies find it hard to make a decision. THE HOLIDAY has a star studded cast that includes Cameron Diaz, Kate Winslet, and Jude Law.

HOW TO LOSE A GUY IN 10 DAYS
8.00am on HBO / HBO HD
Andie is a sexy young journalist who is stuck writing a cheesy advice column for a magazine. For a change, she decides to write a piece on the things women do that turn men off, and personally attempts to snag and then scare off a man in 10 days in the name of research. The lucky darling-in-distress is advertising man, Ben, to whom girls instinctively flock like star-struck sheep. After the two get saddled with each other, it's a battle of wills as Andie tries everything to send him running, while Ben stays as loyal as a puppy. This romantic comedy is achingly funny at times, and absolutely loveable throughout. HOW TO LOSE A GUY 10 DAYS stars Kate Hudson, Matthew McConaughey and Adam Goldberg.

THE NOTEBOOK
9.50am on HBO / HBO HD
Based on the best-selling novel by acclaimed author, Nicholas Sparks, this film tugs at the proverbial heartstrings and leaves no hankie dry. When a young North Carolina boy, Noah, sees the beautiful Allie Hamilton, it's love at first sight. Allie initially treats him as a friend and nothing more, but against the wishes of her aristocratic mother, she soon finds herself falling in love with Noah. Their vastly different social backgrounds, her mother's stifling supervision and her looming, arranged engagement to Lon Hammond Jr., are more than enough to hinder their romance. But Noah and Allie prove that true love is indeed strong enough to withstand the brutal tests of memory and time. The cast of THE NOTEBOOK includes Ryan Gosling, Rachel McAdams, James Marsden, Kevin Connolly and David Thornton.

WIN A DATE WITH TAD HAMILTON!
11.55am on HBO / HBO HD
A small-town grocery bagger, Rosalee, adores the Hollywood bad-boy celebrity, Tad Hamilton, and ends up winning a date with him. She is up and over the moon, but her friend, Pete isn't since he's been carrying the proverbial torch for her all this time. When the actor gets surprisingly smitten by Rosalee's character, he follows her back to West Virginia, much to Pete's chagrin. The film stars Kate Bosworth, Topher Grace and Josh Duhamel.



BRIDGET JONES'S DIARY
1.30pm on HBO / HBO HD
Based on Helen Fielding's book, the story tells of Bridget Jones, a thirty-something single English woman who decides to improve her life and chronicle the efforts in a diary. We follow her efforts through her wry and witty narration, as she struggles with career, family, and romantic challenges. Starring in the title role is Renee Zellweger, along with Colin Firth and Hugh Grant.

BRIDGET JONES: THE EDGE OF REASON
3.05pm on HBO / HBO HD
Bridget Jones, the loveable Brit who looks for love and happiness with her inimitable frank and self-effacing style returns. She begins to question her romance with the ultra-conservative Marc Darcy. To complicate matters, Daniel Cleaver, Bridget's wild playboy boss asks her to join him on location in Thailand for a TV shoot. Renee Zellweger reprises her role as Bridget Jones and is joined again by Colin Firth and Hugh Grant.

THE LAKE HOUSE
4.50pm on HBO / HBO HD
As lonely Dr. Kate Forster exchanges letters with architect Alex Wyler, a correspondence grows into love, but the two realize that they are living in the same house two years apart. To be together, they must unravel the mystery behind their extraordinary romance--knowing that their quest may destroy the link that has allowed them to fall in love. THE LAKE HOUSE stars Keanu Reeves and Sandra Bullock.

WHEN IN ROME
6.30pm on HBO / HBO HD
An ambitious young New Yorker, disillusioned with romance, takes a whirlwind trip to Rome where she defiantly plucks magic coins from a "foolish" fountain of love, inexplicably igniting the passion of an odd group of suitors: a sausage magnate, a street magician, an adoring painter and a self-admiring model. But when a charming reporter pursues her with equal zest, how will she know if his love is the real thing? The cast of WHEN IN ROME includes Kristen Bell, Josh Duhamel and Anjelica Huston.

HITCH
8pm on HBO / HBO HD
In this sophisticated romantic comedy, Alex "Hitch" Hitchens is a legendary, and deliberately anonymous, New York City "date doctor" who, for a fee, has helped countless men woo the women of their dreams. While coaching Albert, a meek accountant who is smitten with a glamorous celebrity, Allegra Cole, Hitch finally meets his match in the person of the gorgeous, whip-smart Sara Melas, a gossip columnist who follows Allegra's every move. The ultimate professional bachelor, Hitch suddenly finds himself falling deliriously in love with Sara, a reporter whose biggest scoop could very well be the unmasking of Manhattan's most famous date doctor. HITCH stars Will Smith, Eva Mendes and Kevin James.



ADVERTISEMENT - CONTINUE READING BELOW