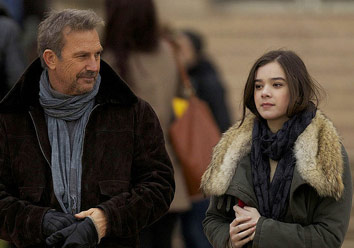 ---

PRESS STATEMENT FROM CAPTIVE CINEMA:
In the heart pounding action-thriller 3 Days to Kill, Kevin Costner is a dangerous international spy, who is determined to give up his high stakes life to finally build a closer relationship with his estranged wife and daughter, whom he's previously kept at arm's length to keep out of danger. But first, he must complete one last mission—even if it means juggling the two toughest assignments yet: hunting down the world's most ruthless terrorist and looking after his teenage daughter for the first time in ten years, while his wife is out of town.
3 Days to Kill stars Kevin Costner as Ethan Renner, the CIA operative at the center of McG's new action, finds himself trying to save the world from Europe's most dangerous terrorists while trying to reconnect with his wife and daughter in Paris
The film discovers some universal truths about family and work that takes the story beyond its spy hero premise. Ethan finds himself in over his head when he is left alone with his teenage daughter Zooey, played by Hailee Steinfeld, for 3 days. Ethan knows exactly what to do when it comes to work, but keeping his career away from his increasingly curious teenager becomes his most challenging mission yet. Like many teens, Zooey feels like Ethan is constantly choosing work over her–even when she doesn't know exactly what "work" is.

"I think that's a theme that many people can relate to in the real world. Many of us spend too much time on things that matter less than that which matters the most to us, and that's what this film is ultimately all about," said McG.

McG sees Ethan's expert killing skills as counterintuitive to being a good father and it is that struggle that drives the film. "Ethan doesn't know much about contemporary teenage culture like Twitter or what's online. He is very analog in a digital world. You have a guy that's been out in the field with a very, very strong sense of duty who has now come home to try to reconnect with his daughter, and it's emotional.
ADVERTISEMENT - CONTINUE READING BELOW
In a film with several relationship dynamics at play, often simultaneously, it was important to find the right combination of talent to bring these characters to life. McG and Costner found their way to the project around the same time, which led to a number of discussions about the film and the character.

McG jumped at the chance to work with Costner seeing it as a tremendous opportunity to work with an Academy Award® winning director and to elevate his own work. "He is a beloved character who has had an established, long standing career." McG saw Ethan as a strong American presence, much like Costner. "It is a tip of the cap to Kevin in regards to how much the global film audience appreciates him."

Filling out Ethan's family meant finding two women who would have unique chemistry with Costner. Ethan's daughter Zooey is your typical American teenager living in Paris, France. The key for McG was finding an actress who could convey all of the conflicting emotions Zooey feels about not understanding her father's life and someone who would be able to match Costner's presence on screen. McG found that in Academy Award® nominee Hailee Steinfeld.

"Hailee was absolutely my first and only choice. She is one of the most natural actors in her age group. She just completely owns the dialogue; she makes difficult scenes go down very easily. It"s not easy to emote and have it feel natural and she puts the audience at ease. That's a gift that can't be taught."

McG further said of Steinfeld, "She is an extraordinary screen presence who we are lucky to have in this place in her career. She understands what it means to be young and alive; but, at the same time, she has an emotional complexity which is beyond her years. So it was a joy to turn the camera on and just watch her work."
ADVERTISEMENT - CONTINUE READING BELOW

3 Days to Kill is released and distributed by Captive Cinema. It will shown in Philippine cinemas by starting February 21, 2014.