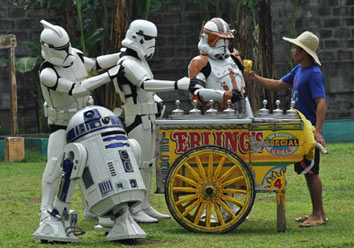 ---

PRESS STATEMENT:


Not even R2D2 and the Stormtroopers are immune from the summer heat. The characters from the beloved Star Wars universe get a much-needed refresher from Mamang Sorbetero himself, who after the initial shock of seeing the inter-galactic creatures, is just too happy to sell them "dirty" ice cream: the iconic Pinoy summer treat.

The public sighting of R2D2 and the Troopers coincided with the celebration of May the 4th which is considered Star Wars Day by fans of the franchise all over the world.

Locally, the "holiday" is spearheaded by The Philippine Outpost of the 501st Legion, an international organization of Star Wars fans who dress up as the bad guys from a galaxy far, far away.

Known as the Bad Guys Who Do Good, members of the 501st wear their costumes at events in order to raise funds for charity, especially children's causes.