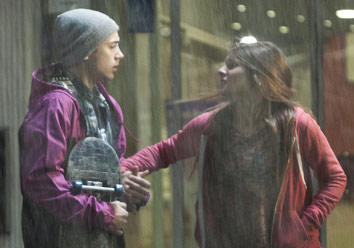 ---

PRESS STATEMENT:


Who says summer is the only time to travel? With CinemaWorld, seeing the world never stops.

CinemaWorld is the first and only Pan-Asia international movie channel, featuring award-winners and hits from all over the globe. Be entertained with the good, the outstanding, the different. CinemaWorld offers top flight movies in their original language subtitled in English.

CinemaWorld's Sunday-See-The-World, anchored on every Sunday, at 9:00 PM, guarantees the exclusive premieres of box-office hits, award winners or critically acclaimed movies on Asian television.

This June, experience a journey of twists, turns, and bumps with Samuel and Vincenzo in The Third Half. Joining two different people in one world made this movie a victor of the Pasinetti Award at the Venice Film Festival 2013. It tells of a delinquent 17-year old assigned to a social worker and recently appointed rugby coach Vincenzo, who struggles with depression and loneliness but finds meaning and redemption through rugby. Despite their unpleasant initial connection, Samuel and Vincenzo both find ways to overlook the rift made in their past. As a result, bigger changes happen when Vincenzo introduces Samuel to the sport and to the team. The Third Half airs first on CinemaWorld on June 15, at 9:00 PM.

The Fear will help you find out the father that you don't want to be and have. The movie is about a father who evokes so much fear in his family that they freeze in his presence. The Fear tackles dramatically how household violence ruins the entire family. This menacing film about domestic violence is said to be "undeniably harrowing," according to a Hollywood reporter, and will air this June 22, at 9:00 PM, on CinemaWorld.

Sure to trigger waterworks is The Longest Distance. When a young boy loses his mother in urban chaos, he decides to go live with his grandmother whom he has never met. His journey through the countryside of Venezuela is twisted with his cancer-stricken grandmother's preparation to take one last trip of her own. Dubbed as an "engrossing pic" by Variety.com, The Longest Distance highlights the search for comfort of the two leading characters as they face life's cruelty. The Cleveland International Film Festival, Huelva Latin American Film Festival, and Montréal World Film Festival winner will air on CinemaWorld on June 29, at 9:00 PM.

On June 13 and 27, catch the last two episodes of Swedish crime thriller series Irene Huss, both at 11:00 PM.

For more details about CinemaWorld, log on to www.facebook.com/CinemaWorldAsia, follow @CinemaWorldAsia, or visit cinemaworld.asia.

CinemaWorld is available in Metro Manila on Cable Link on channel 301, and on Sky Cable HD on channel 184. Contact your cable operator for more details.
ADVERTISEMENT - CONTINUE READING BELOW