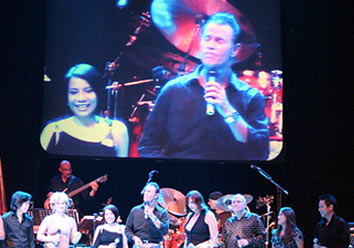 ---

PRESS STATEMENT:


Asia's premiere vocal group, The CompanY, reunites with one of their all-time music heroes, Ms. Janis Siegel of The Manhattan Transfer, on June 23 (Monday) at the Grand Ballroom of Solaire Resort and Casino, 8 p.m.
The personal and musical bonds between The CompanY and The Manhattan Transfer go back twelve years when they first met and performed the song "A Nightingale Sang In Berkeley Square" at the Araneta Coliseum in 1992 (video clip available on YouTube).
Unbeknownst to The CompanY, this rare privilege of sharing the stage and making music with their music heroes, The Manhattan Transfer, would happen a couple of times more as these two vocal groups' lives would intersect through the years.
When The CompanY was involved in a musical theatre production that toured Japan in 1994, they were able to speak to the members of the Transfers who also happened to be in Tokyo at the same time.
In 1996, The CompanY got to be the opening act for The Manhattan Transfer when they performed at the Captain's Bar of the Mandarin Oriental Manila.
Lightning struck twice when once again, The Manhattan Transfer invited The CompanY to perform two songs with them ("Smile Again" and "Someone To Watch Over Me") at the Araneta Coliseum in 2006 (video clip available on YouTube).
Their latest encounter with their music heroes happened recently when The CompanY flew to Singapore to attend the vocal workshop and concert performance of The Manhattan Transfer back to back with New York Voices in 2011.
ADVERTISEMENT - CONTINUE READING BELOW
A regular in the corporate performance scene, The CompanY is also busy with the production of their 24th album under Viva Records to be released on August of this year. The CompanY is also in pre-production meetings for their 30th anniversary concert celebration that will happen next year, 2015.
Janis Siegel has been singing with The Manhattan Transfer since 1972 up to the present. Janis is the lead vocal of such MT hits such as "Boy From New York City", "Twilight Tone" and "Shaker Song." With The Manhattan Transfer, Janis Siegel has garnered 10 Grammy Awards. Aside from singing with the Transfers, Janis has a very prolific jazz solo career and has released 10 albums on her own.
The Solaire concert is Janis' very first solo concert in the Philippines. She has personally requested The CompanY to be her special guest in this one-night-only concert. Expect a wonderful night of vocal jazz as beloved friends reunite onstage on June 23.
For tickets to Janis Siegel's jazz concert in Solaire, please contact 09059286614 or Tel No. (632) 551-8779 or ticketave@gmail.com