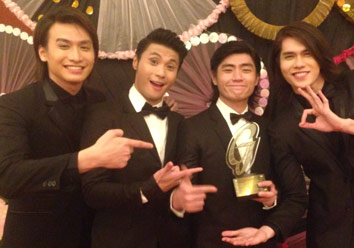 ---
Filipino pop group 1:43 (read: one forty-three) once again scored commercial success in their third all-original album titled #KalyePop (KPop) released last week under MCA Music (Universal Music Philippines).

According a statement provided by Insight, #KalyePop was reportedly selling like hotcakes in various Astrovision, Astroplus and Odyssey record bars in Metro Manila while certain branches ran out of stocks a few days after copies landed on the shelves based on initial sales reports of the label.
"It is a pleasant surprise to learn that the sales of our #KalyePop album is doing well, especially at this time when music fans are no longer buying physical copies of OPM albums. We can't help but be grateful to our fans and supporters for the good news," says boyband spokesman Anjo Resurreccion.
The neocolonial-inspired album #KalyePop contains six musically diverse original tracks from the Filipino boy band that popularized "Sa Isang Sulyap Mo," the monster hit song that won the 2013 PMPC Star Awards for Music Song of the Year and the Most Promising Performing and Recording Group in the Guillermo Mendoza Memorial Scholarship Foundation's 45th Box-Office Entertainment Awards
Except for the upbeat novelty song "Ang Saya-Saya" penned by acclaimed composer Jonathan Ong of Sonic State Studio, the rest of the tracks of #KalyePop, including the hit song "Hayop Sa Ganda" and the earlier promotional single "Ikaw At Ako" were composed by musician and the group's road manager Urie Tesorio. Band manager and public relations entrepreneur Chris Cahilig produced the album while Ong arranged the songs. Its album cover was photographed by 1:43's original member Kimmeth Nicolas and styled by Ryuji Shiomitsu.
ADVERTISEMENT - CONTINUE READING BELOW
The three remaining tracks of #KalyePop include the cleverly titled novelty song "Istambay Me" which tackles about the rampancy of unemployment among Filipino youth and the ballads "Langit" and "Pwede Bang Malaman," which carry the 1:43's signature romantic melody and lyrics.
1:43 is composed of Anjo Resurreccion, a University of Santo Tomas (UST) Psychology graduate and a MYX VJ Search finalist; Argee Golding, an international taekwondo medalist from UST; Gold Aquino, an entrepreneur and a Business Administration graduate from the Centro Escolar University (CEU); and Yuki Sakamoto, a Hotel and Restaurant Management student from CEU-Makati and the main vocalist of the group.
According to Cahilig, the idea of producing a #KalyePop for 1:43 has been in his mind since he formed the boy band in 2010 as a reaction to the young Filipino audience's fancy for KPop music and star.
"#KalyePop is inspired by the musical aesthetics of the everyday Juan dela Cruz on the street. We wanted a selection of songs that can be easily played with a guitar while having a drinking session or danced by the masses young and old, rich or poor in public gatherings," explains Cahilig.
Two of the tracks of #KalyePop are now enjoying airtime on radio stations. The song "Hayop Sa Ganda" has so far received close to half a million views on Youtube while "Ang Saya-Saya" is brewing to become a dance craze.
Aside from the catchy OPM music, #KalyePop contains special codes for in-game items of popular Level Up! online games Audition Dance Battle, Cabal, and Ragnarok. Interested parties may book 1:43 by sending an inquiry at chriscahilig@gmail.com or by visiting the 1:43 Fan Page on Facebook.
ADVERTISEMENT - CONTINUE READING BELOW