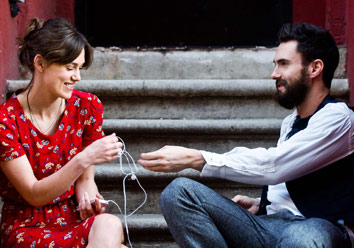 ---



"If music be the food of love, play on," wrote William Shakespeare over 400 years ago, reminding us of the way that music can inspire and speak to our emotions and connections in a deeper and more profound way than simple words.

It's no wonder, then, that the cinema has embraced the power of music to capture and enhance the screen's powerful connection to the human spirit.

No one knows that better than filmmaker John Carney, whose 2006 film ONCE went from being the find of the Sundance Film Festival to winning the Independent Spirit Award for Best Foreign Film, earning a Grammy nomination for its soundtrack, and winning the Best Original Song Academy Award for the romantic ballad "Falling Slowly" (composed and performed by the film's stars, Glen Hansard and Marketa Irglova.) The stage play based on the film then went on to win the Tony Award for Best Musical.


Now, Carney has brought his unique perspective to New York City for another film that documents the power of music as it changes the lives and fortunes of two struggling souls.

In Begin Again, past-his-prime record executive Dan Mulligan (played by Mark Ruffalo) is facing a failing marriage, a career he can't keep up with, and a daughter he can't connect to.
ADVERTISEMENT - CONTINUE READING BELOW
But at his most desperate moment, he hears a powerful song by Gretta (Keira Knightley), an unknown musician on the brink of giving up her musical dreams after unexpected heartbreak and frustration. An unlikely pair who are brought together by equal parts inspiration and desperation, the film follows them as their musical partnership develops into a deep friendship, and their lives take unexpected turns.


"John is a really gifted director," says Oscar nominee Ruffalo. "I loved ONCE and was thrilled to talk to him about this film. He does such a beautiful job of mixing music into the world of the film without it being a traditional musical. He's like the John Cassevetes of cinematic musicals."


Co-star Knightley admits she is best known for her costume dramas and period films. "My character has pretty much died in everything I've done for the last five years," she jokes. "I decided I'd like to do something where I didn't have to go through heavy emotional turmoil and die, if at all possible. There's a touch of emotional turmoil in this, but in the end I found it to be incredibly hopeful. It's rare to find pieces of work that are so full of hope."


The relationship between Dan and Gretta is complex. Dan is still trying to work out his marriage to Miriam (Catherine Keener), while Gretta is still hoping that her relationship with the suddenly successful Dave will survive his newfound life in the spotlight.


Bound together by their mutual determination to bring Gretta's music to life by recording her songs outdoors – with the sounds and rhythms of New York City as a sonic backdrop – they ultimately find themselves enmeshed in one another's emotional lives, unsure of how the boundaries between friend, partner, and potential lover are supposed to be drawn.

"It's an odd-couple type of relationship," observes Knightley. "These aren't necessarily two people who would find each other, but this happens at a very strange moment in their lives, and they end up being exactly what the other needs."


With a strong and uniquely powerful script, Carney was able to attract a compelling mixture of newcomers and seasoned veterans from many walks of the entertainment industry.

"What we have is an incredible mix," observes producer Anthony Bregman. "In addition to Mark Ruffalo and Catherine Keener, who have been working for decades, and Keira Knightley who has done Oscar-nominated work and the Pirates of the Caribbean movies, we also have Hailee Steinfeld from True Grit; we have James Corden from British TV who just won a Tony Award; and people from the music industry like Adam Levine from Maroon 5, CeeLo Green and Yasiin Bey (also known as Mos Def.) It's very rare to have that combination of actors from so many different disciplines in one movie."


Begin Again opens on July 9, 2014 in theaters nationwide and is distributed locally by Solar Pictures.


Check out the trailer at the Solar Pictures YouTube channel: http://youtu.be/prXttiueTdM
ADVERTISEMENT - CONTINUE READING BELOW