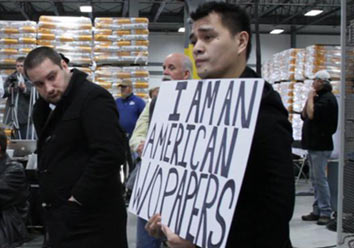 ---


Jose Antonio Vargas' Documented will open the 10th Cinemalaya Independent Film Festival and Competition on August 1-10 at the Cultural Center of the Philippines.

Jose Antonio Vargas is a Pulitzer Prize-winning journalist, filmmaker, and the founder of Define American, a media and culture campaign that seeks to elevate the conversation around immigration and citizenship in a changing America. Documented is the first project of his production company, Apo Anak Productions, named in honor of his grandparents and mother.

In June 2011, the New York Times Magazine published a groundbreaking essay he wrote in which he chronicled his life in America as an undocumented immigrant. A year later, he appeared on the cover of TIME magazine worldwide with fellow undocumented immigrants as part of a follow-up story he wrote. Since then, he has testified at a United States Senate Judiciary Committee hearing on immigration reform, and been at the forefront of challenging the media's coverage of undocumented immigrants.

In a statement published on http://documentedthefilm.com, Vargas said:

"Every day, an estimated 1,100 immigrants are deported. The U.S. government has deported nearly 2 million immigrants in five years—a record. But not me. I am privileged to still be in America, my home, and privileged to put Documented on the screen.

"To me, politics is culture. I became a journalist, and later, a filmmaker, to get to know my adoptive country and my volatile place in it as a gay, undocumented, Filipino American.

"As a newcomer to America who learned to 'speak American' by watching movies, I firmly believe that to change the politics of immigration and citizenship, we must change culture—the way we portray undocumented people like me and our role in society. That's why I felt compelled to take charge of my own narrative and write, produce, and direct Documented.

"This film, to me, is as much an artistic statement as it is a political one: I am not the 'illegal' you think I am, and immigration is not what you think it is."

Documented will be shown at 7 p.m. following the Cinemalaya opening ceremony, which starts at 6 p.m. The event is open to the public.

Now on its tenth year, Cinemalaya X as this year's edition is billed, is a project of the Cinemalaya Foundation, Cultural Center of the Philippines (CCP and the Ayala Malls Cinemas). Starting August 2, Cinemalaya Festival films will be shown at Ayala Malls in Greenbelt Makati, Alabang Town Center, TriNoma and Fairview Terraces in Quezon City.

Cinemalaya is an all-digital film festival that aims to discover, encourage and honor cinematic works of Filipino filmmakers that boldly articulate and freely interpret the Filipino experience with fresh insight and artistic integrity. For more information about Cinemalaya X, visit www.cinemalaya.org, www.culturalcenter.gov.ph and the Cinemalaya facebook page or call the CCP at Tel. No. 832-1125 local 1704-05.
ADVERTISEMENT - CONTINUE READING BELOW