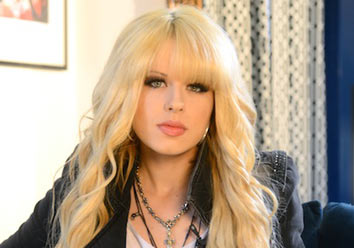 ---
Award-winning Australian female guitarist Orianthi, who remains to be the most sought-after by the world's biggest acts, is coming to Manila for a series of concert performances this month.
Orianthi is set to perform in several venues in Manila from until August 27 in line with the release of her very first Best Of… record which is being released in Japan this month.

In Manila, Orianthi holds special performances on the following dates: August 27 at the Hard Rock Café in Makati; August 25 at the 19 East at Km. 19, East Service Road in Sucat, Paranaque; and on August 22 at the Chef and Brewer on Emerald Ave. in Ortigas Center.
Best known as the lead guitarist personally handpicked by the late great Michael Jackson for his monumental concert tour This Is It, Orianthi Panagaris or simply Orianthi has played for and with the biggest and most diverse artists in the world such as Carlos Santana, Alice Cooper, Steve Vai, Michael Bolton, Prince, ZZ Top, Adam Lambert, Carrie Underwood, John Mayer, and Dave Stewart, among others.
Orianthi's vast experience has managed to hone her skills to her best advantage. She says,"I've learned something valuable from all the artists I have had the privilege to work with." She has recently appeared on tour with famous guitarist Ritchie Sambora (formerly of Bon Jovi) across Europe and New York.
Voted as "Breakthrough Guitarist of the Year" in 2010 by Guitar International magazine, Orianthi was exposed to rock music at an early age when she started taking an interest in the record collection of her father who was also a musician. There, she was particularly fascinated by the works of guitar legends Jimi Hendrix, Eric Clapton, Cream and Carlos Santana.
She begged her dad to buy her a second-hand guitar and then bought all of Santana's videos on VHS which she wore down while trying to learn his solos. Santana's visit to Orianthi's hometown in Adelaide when she was 11 proved to be a turning point for her.
ADVERTISEMENT - CONTINUE READING BELOW
Since releasing her major label debut, Believe in 2009 Orianthi has recorded a total of four studio albums and has released five singles including her worldwide hit, "According To You."
She was also cited by Elle magazine as among the 12 Best Female Electric Guitar Players in 2009. She was also honored by Gibson Guitars as one of their Guitar Gals: The Top 10 Female Guitar Players of All Time.
Orianthi is on a mission to break barriers. She said she has always wanted to inspire more girls to play the guitar. "That's why getting on the radio was really important to me in the beginning," she quipped.
For inquiries and reservations on Orianthi's upcoming shows in Manila, please contact East 19 at 837-6903 and 0949-4984405 for her August 25 performance; and Hard Rock Café at 893-4661 to 65 for her August 27 concert.

You may also visit Orianthi's official site at www.orianthi.artistintersect.com for more details. Her official Facebook page is www.facebook.com/Orianthi and Twitter official account is @orianthi.