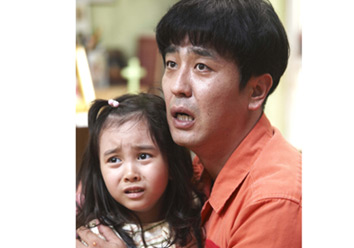 ---


This Sunday (September 21), GMA Network will air the hit Korean film, Miracle in Cell No. 7, featuring the voices of Kapuso stars Gabby Eigenmann and Mona Louise Rey in Kapuso Movie Festival.



Invite the whole family to watch this phenomenal movie that will definitely captivate the hearts and touch the lives of Filipino viewers from all ages with its engaging story and heartfelt performances of the cast.



Witness how Kapuso talented actor Gabby Eigenmann makes the lead character, Lee Yong-gu (Ryu Seung-ryong), even more endearing to Filipino viewers with his heartfelt voice. Yong-gu is a mentally challenged man who is imprisoned in the harshest cell in maximum security prison and sentenced to death following a wrongful accusation of committing murder.



Meanwhile, Kapuso child star Mona Louise Rey will give life to the character of Yong-gu's daughter Ye-sung (Kal So-won) with her charming voice. The story becomes even more intense and dramatic when Yong-gu and Ye-sung finally see each other again through the help of the criminals in the cell where Yong-gu was detained.



The phenomenal Korean drama film Miracle in Cell No. 7 airs in Kapuso Movie Festival this Sunday, September 21, at 11:15 AM before Sunday All Stars on GMA-7.