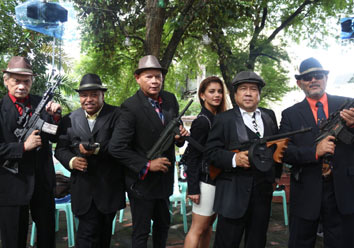 ---

In Gangster Lolo, moviegoers will get to meet Asiong Salonpas (Leo Martinez) and his band of "senior citizen" criminals, (played by Bembol Roco, Rez Cortez, Pen Medina, Soxie Topacio and Boy Alano).

They go about their lucrative criminal activities by staging successful holdup robberies in the metropolis. Their nefarious business is well-funded by Bogart (Rylan Flores) and Jim (Archi Adamos).

Things were going well for them until the police finally caught them in a jewelry shop heist they were trying to pull off. Only Jack (Boy Alano) was able to escape.

Knowing that the gang was able to somehow hide the loot somewhere, Bogart and his group begin hunting Jack who was able to provide a map to Asiong and the others who were already in prison.

While in jail, Asiong, Bembol, Rez, Pen and Soxie decided to "turn over a new leaf" and reform themselves.

They are eventually released from prison and take up residence in an old tenement building where they knew Jack hid their loot.

This is where their adventures begin and things slowly fall into the right places for each one of them.

Asiong wins the love of his dream girl, Parole Officer Ms. Garcia, portrayed by comebacking actress Isabel Granada.


The movie--while delivering the old-school laughs and satisfying the right action "adrenalin" rush--also highlights the theme that 'Crime does not pay' and the basic Golden Rule (Do unto others what you want other to do unto you).

Gangster Lolo directed by William G. Mayo and produced by Randy and Marilou Nonato, and Rylan Flores under their Cosmic Raven Ventures Productions, will be screened in cinemas starting November 19, 2014.
SHARE THIS STORY Gangster Lolo" data-url="https://www.pep.ph/guide/at-a-glance/14805/isabel-granada-joinssenior-citizen-criminals-in-gangster-lolo" data-desc="Gangster Lolo will open in cinemas by November 19, 2014. " data-image="https://contents.pep.ph/images2/guide/1415891837_gangster-lolo.jpg"> Gangster Lolo" data-url="https://www.pep.ph/guide/at-a-glance/14805/isabel-granada-joinssenior-citizen-criminals-in-gangster-lolo" data-desc="Gangster Lolo will open in cinemas by November 19, 2014. " data-image="https://contents.pep.ph/images2/guide/1415891837_gangster-lolo.jpg"> Gangster Lolo" data-url="https://www.pep.ph/guide/at-a-glance/14805/isabel-granada-joinssenior-citizen-criminals-in-gangster-lolo" data-desc="Gangster Lolo will open in cinemas by November 19, 2014. " data-image="https://contents.pep.ph/images2/guide/1415891837_gangster-lolo.jpg">
SHARE THIS STORY
Gangster Lolo" data-url="https://www.pep.ph/guide/at-a-glance/14805/isabel-granada-joinssenior-citizen-criminals-in-gangster-lolo" data-desc="Gangster Lolo will open in cinemas by November 19, 2014. " data-image="https://contents.pep.ph/images2/guide/1415891837_gangster-lolo.jpg"> Gangster Lolo" data-url="https://www.pep.ph/guide/at-a-glance/14805/isabel-granada-joinssenior-citizen-criminals-in-gangster-lolo" data-desc="Gangster Lolo will open in cinemas by November 19, 2014. " data-image="https://contents.pep.ph/images2/guide/1415891837_gangster-lolo.jpg"> Gangster Lolo" data-url="https://www.pep.ph/guide/at-a-glance/14805/isabel-granada-joinssenior-citizen-criminals-in-gangster-lolo" data-desc="Gangster Lolo will open in cinemas by November 19, 2014. " data-image="https://contents.pep.ph/images2/guide/1415891837_gangster-lolo.jpg"> Gangster Lolo" data-url="https://www.pep.ph/guide/at-a-glance/14805/isabel-granada-joinssenior-citizen-criminals-in-gangster-lolo" data-desc="Gangster Lolo will open in cinemas by November 19, 2014. " data-image="https://contents.pep.ph/images2/guide/1415891837_gangster-lolo.jpg">