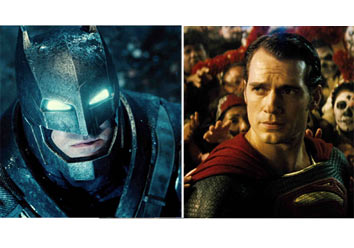 ---

Warner Bros. Pictures has officially released the teaser trailer of Batman v Superman: Dawn of Justice, the highly anticipated action adventure from director Zack Snyder starring Henry Cavill in the role of Clark Kent/Superman, and Ben Affleck as Bruce Wayne/Batman.

Catch the trailer here at https://youtu.be/8n6HH5b1u8U.

Past teasers have given viewers a glimpse of Ben Affleck's Batman but this newly released trailer provides the first audio of his electronically distorted voice.

In this trailer, viewers get to see Henry Cavill's Superman having a face off with Batman who asks, "Do you bleed? Because you will."

Another distinct voice heard in the trailer is Jesse Eisenberg's Lex Luthor who points out, "Devils don't come from hell beneath us. . . no, they come from the sky."

The film also stars Gal Gadot as Diana Prince/Wonder Woman, with Amy Adams, Laurence Fishburne and Diane Lane returning from Man of Steel, Jesse Eisenberg as Lex Luthor, Jeremy Irons as Alfred, and Holly Hunter in a role newly created for the film.

Batman v Superman: Dawn of Justice is written by Chris Terrio, from a screenplay by David Goyer. Charles Roven and Deborah Snyder are producing, with Benjamin Melniker, Michael Uslan, Wesley Coller, David Goyer and Geoff Johns serving as executive producers.

Principal photography will take place on location at Michigan Motion Picture Studios and on location in and around Detroit, Michigan; Illinois; Africa; and the South Pacific.

Set to open in the Philippines on March 26, 2016, Batman v Superman: Dawn of Justice is based on Superman characters created by Jerry Siegel & Joe Shuster, Batman characters created by Bob Kane, and Wonder Woman created by William Moulton Marston, appearing in comic books published by DC Entertainment.




Ben Affleck as Bruce Wayne/Batman