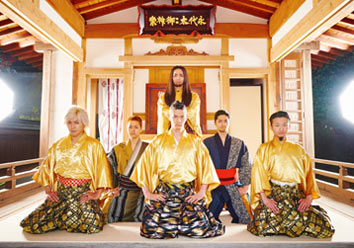 ---


Animax, Asia's first channel specializing in Japanese animation, will be bringing its annual flagship event back to the Philippines.

Viewers and fans will be treated to two days of fun-filled anime-themed activities at Animax Carnival Philippines 2015. It will be held at SMX Convention Center (Hall 4), Pasay City from May 30 and 31 (Saturday-Sunday) from 11 am to 8 pm.

Anime lovers can look forward to special performances by renowned cosplayer Alodia Gosiengfiao, the Animax Cosplay Competition, exciting activities and sale of exclusive anime merchandise, and special guest performances from Japan. Admission to the carnival comes at the affordable price of P200 each.


COSPLAY ROYALTY. The Queen of Philippine Cosplay, Alodia Gosiengfiao, will be performing onstage bringing some of her best costumes and pegs. Her passion for anime, video games and other creative media has led her to contribute to the rise of Cosplaying activities in Philippines.


SPECIAL GUESTS. Animax Carnival Philippines 2015 will also be celebrating Japanese culture with the performances of special guests.

Attendees can look foward to performers from Japan called Triqstar, who is known for mixing traditional Japanese Kabuki elements with new-age dance. They recently appeared as one of the finalists in Asia's Got Talent.

Tambourine Master "Gonzo" will also be featured in the event. A Jpop dance routine will also be staged by another Asia's Got Talent finalist, Junior New System.


ANIMAX COSPLAY COMPETITION. This year's event will see the return of the acclaimed Animax Cosplay Competition for cosplay lovers.

Cosplayers can once again showcase their costume-making talents and emulation of their favorite anime characters with a range of realistic costumes and gravity-defying anime hairstyles to thrill visitors. This year, the competition will feature two categories, a solo category on May 30, and a group (no more than 5) category on May 31, both happening at 2 pm to 5 pm.

Participants of both categories will stand a chance to win cash and exciting prizes and goodie bags, with attractive prizes worth over P10,000.

Fans will also get to be submerged into the world of anime and the Japanese culture through this year's carnival.

Attendees will be able to play traditional Japanese games and preview all of the anime posters and character artworks that have been featured on Animax. They can experience iconic Japan by learning how to write their names in Japanese and folding Origami for display. There will also be purchasable Japanese fashion pieces and Japanese food from a variety of designer booths and food stalls.


ADVERTISEMENT - CONTINUE READING BELOW