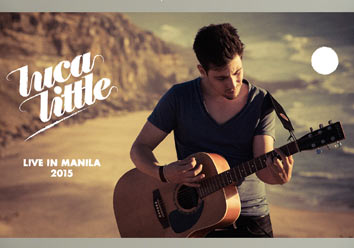 ---

Swiss singer Luca Little will hold a concert in Manila this Thursday, July 30, 2015.

Alliance Française de Manille in partnership with the Embassy of Switzerland to the Philippines together with the Swiss Cultural Fund present Luca Little Live in Concert at the Bernardo Sim Hall, 4th Floor Alliance Francaise de Manille at 6:30 PM.

Alliance Francaise is located at 209 Nicanor Garcia Street, Bel-Air II, Makati City.

Tiendesitas and National Parks Development Committee (NPDC) are also partners and Luca Little will also be performing at Tiendesitas on July 31 (Friday) at 11 pm, and at Rizal Park on August 1 (Saturday) at 6 pm.

Luca Little is a Swiss singer/songwriter and one of the bearer of hopes in the local music industry.

Born on the 9th of August 1985 in Winterthur, a suburb of Zurichas, Luca Honegger grew to discover his passion and love for music from a young age. He started off by playing the piano and eventually joined a choir.

At age 14, Luca's brother introduced him into the world of punk and rock music, changing his life completely. Luca got inspired and took on the adventure to find his own music style. He joined his first band two years later, learned to play the guitar, and continued discovering his passion for the genre.

In 2008, Luca Little started his solo career. For the next two years, he worked on his first album, BIG, which was awarded album of the year by Radio 24. It has been celebrated and caused a wide spread rapture in the swiss media. Meanwhile, Luca took on his songwriting skills and developed new singles within the next two years, all coming together in his second album LOCOMOTION (2012). The album includes his hit "Autumn in May," a single that also received an award called the "SRF3 Best Talent." The single landed on top of the billboard charts, while Luca was holding numerous concerts alongside international artists such as Amy MacDonald and 77 Bombay Street. Luca Little is considered as one of the most listened artist of the country, receiving a lot of attention from concert promoters. With his album LOCOMOTION Luca has given over 90 concerts within 13 months.

2012 has been very strenuous: Luca has been traveling non-stop, playing a concert almost every fourth day and giving numerous interviews. In mid-2013 Luca decided with his team, to take a much-needed break. He went on to travel privately.

As the end of 2013 came around Luca started to work on a new album. He was full of energy, had lots of ideas and wanted to get back into the studio.

In 2014, his third album LION was born. For the first time, three video clips were filmed along the coasts of Portugal and Spain. With his song "Hello" and a Facebook post, Luca Little sparked a wave of enthusiasm from the Philippines.

With over 40,000 Facebook fans all of a sudden, the 29-year-old performer became an artist from Switzerland who gained international attention.

Luca looks up to musicians such as John Mayer, Dave Matthews and Jose Gonzalez as well as folk legends Bob Dylan and Sixto Rodriguez, all while inspiring thousands of people across the globe himself.

Please call Tel. No. 895-7585 or 895-7441 for more information.



ADVERTISEMENT - CONTINUE READING BELOW