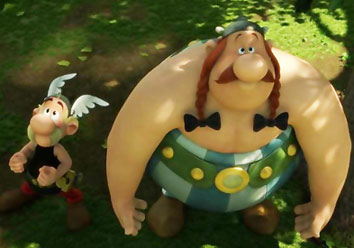 ---

PRESS STATEMENT:


One of the most popular French comics in the world, Asterix: The Mansions of the Gods, can now be seen on the big screen.

Adapted from Rene Goscinny and Albert Uderzo's iconic Asterix book of the same name, Asterix: The Mansions of the Gods is an explosion of fun, colour, and hilarity.

Julius Caesar unveils his latest plan to get rid of those indomitable Gauls once and for all. Since his army has not been able to crush "the last pocket of resistance," he decides to try a stealth invasion: civilization delivered to the village gates!

He builds a new Rome—The Land of the Gods—around Asterix's village, pressuring the Gauls to assimilate or vanish.

Despite Asterix and Obelix's plans to stop the construction work, the buildings quickly rise and the Roman citizens start to peacefully invade their surroundings, bringing chaos to Asterix's village.

Could this finally mean victory for Caesar?

Asterix: The Mansions of the Gods accurately depicts the true spirit found in the original comic books: the gags and rhythm are pitch-perfect, and the voices of Roger Carel and his fellow star-studded cast add a brilliant touch of magic to the rest of it.

Asterix: The Mansions of the Gods, released and distributed by Captive Cinema, will be shown in Philippine cinemas starting September 9, 2015.


ADVERTISEMENT - CONTINUE READING BELOW