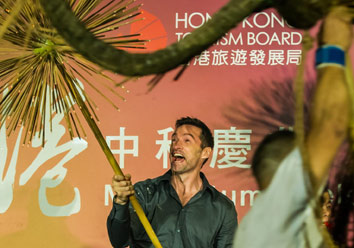 ---

PRESS STATEMENT:



Award-winning actor Hugh Jackman attended Hong Kong's Tai Hang Fire Dragon Dance as part of the promotion for his latest film, Pan, a retelling of the children's classic Peter Pan.
Leading the parade by holding the Fire Dragon Pearl, Hugh Jackman is the first international star to participate in an authentic cultural heritage with around 100 years of history.

The Tai Hang Fire Dragon Dance is one of Hong Kong's most famous local cultural traditions during the Mid-Autumn Festival, aside from feasting on mooncakes and strolling through a lantern exhibition.
The spectacular dragon dance usually presents a 76-meter long dragon comprising over 70,000 sticks of incense and played by 300 performers. The tradition is based on the miracle of the 19th century when villagers of Tai Hang managed to stop a plague with the fire dragon dance.