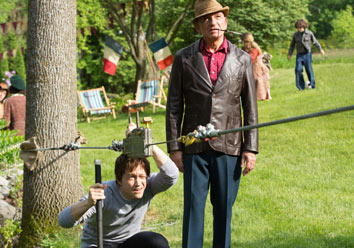 ---

PRESS STATEMENT FROM COLUMBIA PICTURES:


Ben Kingsley (Exodus: Gods and Kings), Charlotte Le Bon (Project Lazarus) and James Badge Dale (Iron Man 3) lead a group of acclaimed and up-and-coming actors who embraced the story of pulling off high-wire artist Philippe Petit's caper: to walk in the immense void between the World Trade Center towers, in Columbia Pictures' thrilling adventure, The Walk.

In the film, Philippe Petit (Joseph Gordon-Levitt), guided by his real-life mentor, Papa Rudy (Kingsley), is aided by an unlikely band of international recruits, who overcome long odds, betrayals, dissension and countless close calls to conceive and execute their mad plan.

Oscar-winner Ben Kingsley plays Papa Rudy, the man and mentor who taught Petit how to walk on the wire. "The Omankowsky Troupe were a remarkable troupe," says Kingsley. "They were a family – a father and mother. Omankowsky's wife was a beautiful trapeze artist and very accomplished in other fields as well, and his sons were high-wire walkers."

Kingsley notes that Papa Rudy is a fascinating character because he's not just an expert performer. "The important thing to know and to understand about any person who is extremely skilled at one particular craft is that often that person is a wise, extraordinary person," he says. "I've known great actors, great artists, great musicians, great painters, great chess players, great filmmakers, great drivers – you meet these people who are extremely good at what they do and there is always something else. You can't have that genius in isolation – it's held in a context of what I can only call intelligence."

French-Canadian actress Charlotte Le Bon takes the role of Annie, Philippe's girlfriend. "She's Philippe's first accomplice," she explains. "He shares his dream with her for the first time. She falls in love with his dream, and with Philippe as well. She was very important for him, because she was an anchor for him. He needed her when he was feeling more vulnerable. He couldn't show that to his friends, but he could show it to her."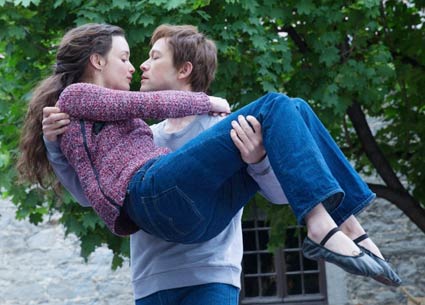 Charlotte Le Bon and Joseph Gordon-Levitt


Naturally, Le Bon was excited by the opportunity of working with Robert Zemeckis. "Working with Robert Zemeckis is the most comforting acting experience I have ever had," says Le Bon.

"Coming from France, where French directors are always looking and searching inside themselves, they're never sure about exactly what they're doing. Zemeckis knows exactly what he wants and exactly what your character is supposed to do in that sequence. It's so comforting. He has the movie in his head – you can tell he's been working on it for years. We were in such good hands that he could ask us to do anything."

James Badge Dale rounds out the lead cast as Jean-Pierre, the salesman who provides a key link to fill out the team that will make the coup a reality.

"The way we looked at the character, he's a fast-talking New Yorker," says Dale. "If he can communicate with Philippe's team, he can be of assistance. At this point, Philippe and his buddies are looking for people in New York to bring in so they can get into the buildings and attempt their coup."

The supporting roles include Clément Sibony as Jean-Louis and César Domboy as Jean-Francois (aka Jeff), two coup co-conspirators who come over from France to help Petit pull off his audacious act.

Robert Zemeckis, the master director of such marvels as Forrest Gump, Cast Away, Back to the Future, Polar Express and Flight, again uses cutting edge technology in the service of an emotional, character-driven story.

With innovative photorealistic techniques and IMAX® 3D wizardry, The Walk is genuine big-screen cinema, a chance for moviegoers to viscerally experience the feeling of reaching the clouds.

Opening across the Philippines in October 14, The Walk is distributed by Columbia Pictures, local office of Sony Pictures Releasing International.
ADVERTISEMENT - CONTINUE READING BELOW