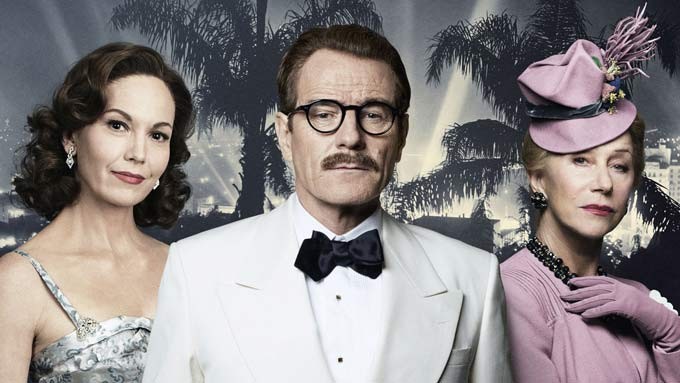 ---

At the height of Cold War paranoia, Hollywood's greatest screenwriter, Dalton Trumbo, was blacklisted.

Refusing to sacrifice his principles or submit to a system gripped by paranoia, Dalton fought for his right to a voice.

The movie Trumbo, directed by Jay Roach, recounts his inspirational true story.

Dalton Trumbo (Bryan Cranston) was Hollywood's top screenwriter until he and other artists were jailed and blacklisted for their political beliefs in 1947.

The controversial screenwriter used words and wit to win two Academy Awards and expose the absurdity and injustice of the blacklist, which entangled everyone from gossip columnist Hedda Hopper (Helen Mirren) to John Wayne, Kirk Douglas and Otto Preminger.

This biopic also stars Diane Lane, John Goodman, Louis C.K., Elle Fanning, and Michael Stuhlbarg.

The film earned for Bryan Cranston his first Oscar Best Actor nomination.

Helen Mirren was nominated in the Best Supporting Actress category while the cast members were nominated in the Outstanding Performance by a Cast in a Motion Picture category of the 22nd Screen Actors Guild Awards.

Cranston also earned a nomination in the Outstanding Performance by a Male Actor in a Leading Role category of the SAG.

In the Golden Globe Awards, Cranston earned another Best Actor nod while Helen Mirren also bagged a nomination in the Best Supporting Actress category.







ADVERTISEMENT - CONTINUE READING BELOW