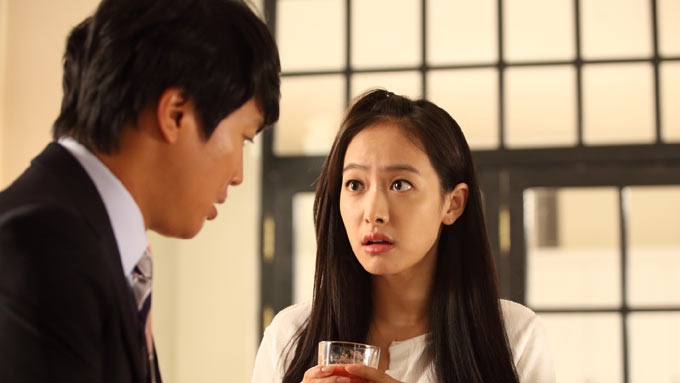 ---

Fans of My Sassy Girl will be thrilled to learn that the sequel of the Korean romantic hit movie is scheduled to screen in the Philippines this June.

After 15 years, the sequel titled My New Sassy Girl will continue the story of hapless Gyeon-woo (played by Cha Tae-Hyun) but this time, he has a new love interest.

The former student is now all grown up and married to an unpredictable tough woman played by Victoria Song of Korean girl group f(x). 

The funny and romantic escapades of the newly married couple can be seen when My New Sassy Girl opens June 1, 2016 in cinemas nationwide from Pioneer Films.
 
In My New Sassy Girl, Gyeon-woo has trouble forgetting his "old" sassy girl (Jun Ji-hyun), but soon reunites with his childhood love (Victoria Song).

The "new" sassy girl, the only child of a rich family in China, returns to Korea to marry Gyeon-woo despite disapproval from her family.

However, Gyeon-woo's married life with his new, but familiar sassy girl is tougher than he ever imagined.  Directed by South Korean veteran Jo Geun-shik, My New Sassy Girl now explores the problems of the newly married couple.
 
Cha Tae-hyun who reprises his role shares that, "The new movie elaborates on the romance, and love can be blind, risky, and unpredictable theme.  There's no change to the characters, except that Gyeon-woo was a student back then, and is now an office worker and a husband.  The woman has changed, but her way of treating me hasn't changed at all. I loved the plot a lot. I think there will be a new trend of people following certain actions from the film as there was with the first film."
 
Victoria Song, a Chinese actress-singer, revealed in her previous interviews that she felt she had to live up to the expectations set by the actress in the first movie. 

"Jun Ji Hyun's effect on the movie is a big pressure for me," Victoria said. "However, this is a new step for me. I believe I have the strength to overcome the pressure."
 
Likewise, Cha has high hopes that the audience will still love the sequel despite changes in the lead female role.

"Gyeon Woo' from My Sassy Girl is a character I can't help but note as memorable. Even after all the characters I've played, it's a character who will forever be connected to my name.  I was determined to not participate in the second movie, but because of my personal attachments, as well as my trust in director Jo Geun Shik, I'm just hoping that things will work out in the end," Cha admits.
 



ADVERTISEMENT - CONTINUE READING BELOW