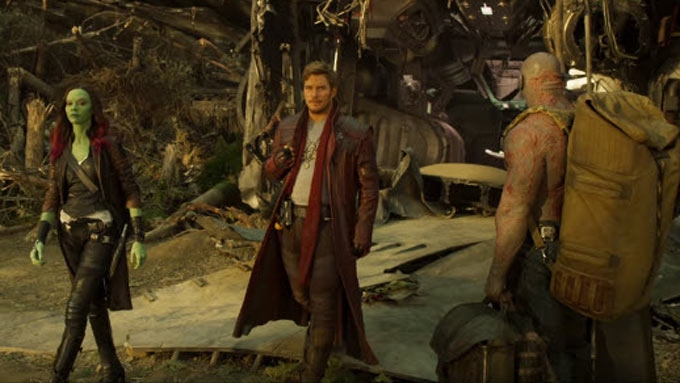 ---

PRESS STATEMENT FROM WALT DISNEY STUDIOS:


Your favorite intergalactic misfits line up for a fresh look at Marvel's Guardians of the Galaxy Vol. 2 with the unveiling of a teaser trailer which may be viewed at http://youtu.be/2WhQcK-Zaok.

From director and screenwriter James Gunn himself: "So the first Guardians of the Galaxy Vol. 2 trailer will be coming in not too long, but we know how thirsty you guys are for a glimpse--so we put together this special sneak peak at #GotGVol2 for you."

The gang's back together in a new poster as well, with Yondu and Nebula joining Quill, Gamora, and Drax, offering a tease of the mischief and mayhem our heroes have in store for us next year.
Guardians of the Galaxy Vol. 2 is written and directed by James Gunn.

The film marks the return of the original Guardians, including Chris Pratt as Peter Quill/Star-Lord; Zoe Saldana as Gamora; Dave Bautista as Drax; Bradley Cooper as the voice of Rocket; Vin Diesel as the voice of Groot; Michael Rooker as Yondu; Karen Gillan as Nebula; and Sean Gunn as Kraglin. New cast members include Pom Klementieff, Elizabeth Debicki, Chris Sullivan and Kurt Russell.

Set to the all-new sonic backdrop of Awesome Mixtape #2, Guardians of the Galaxy Vol. 2 continues the team's adventures as they unravel the mystery of Peter Quill's true parentage.

Guardians of the Galaxy Vol. 2 is produced by Marvel Studios' president, Kevin Feige, with Louis D'Esposito, Victoria Alonso, Jonathan Schwartz, Nik Korda and Stan Lee serving as executive producers.

Opening across the Philippines on April 26, 2017, Marvel's Guardians of the Galaxy Vol. 2 is distributed in the Philippines by Walt Disney Studios Motion Pictures through Columbia Pictures.





ADVERTISEMENT - CONTINUE READING BELOW