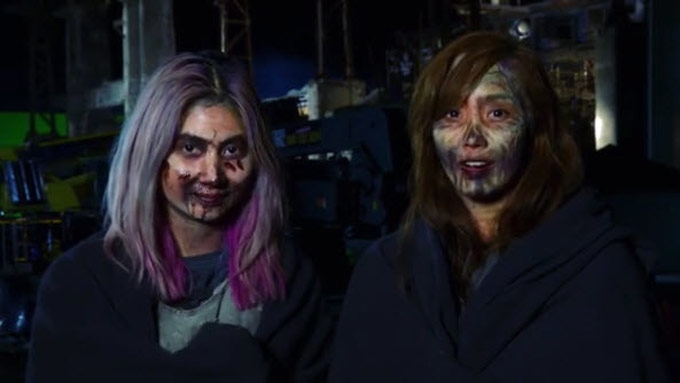 ---


Did you know that two Filipinas are part of the Hollywood film Resident Evil: The Final Chapter?

Popular influencers and cosplaying sisters Alodia and Ashley Gosiengfiao were among loyal Resident Evil fans from various countries invited by the filmmakers to play ass-kicking zombies.

The sisters were out to infect Milla Jovovich's Alice and her team, the only remaining survivors of the undead apocalypse.

Alodia and Ashley recently held a special private screening of Resident Evil: The Final Chapter with their friends at the Columbia Pictures Preview Room to celebrate their participation in the film's production.

The Pinay cosplayers flew to South Africa for the location shoot last year, and experienced first-hand the thrill of being made up as zombies, complete with authentic costumes and gnarly attitude.

For their efforts, both girls' names appear in the film's end credits.

Resident Evil: The Final Chapter, marks the sixth and final installment in the film franchise adaptation of Capcom's hugely popular video game series, which grossed over $1 billion worldwide to date. It is considered one of the most successful video game film franchises ever.

Resident Evil: The Final Chapter picks up immediately after the events in Resident Evil: Retribution, in which Alice is the only survivor of what was meant to be humanity's final stand against the undead. Now, she must return to where the nightmare began: The Hive in Raccoon City, where the Umbrella Corporation is gathering its forces for a final strike against the only remaining survivors of the apocalypse.

Among the diverse group of acting talent are returning stars, Milla Jovovich reprising her starring role as Alice, Ali Larter (Resident Evil: Afterlife), as Claire Redfield, Shawn Roberts (Resident Evil: Afterlife), as Albert Wesker, and Iain Glen (Game of Thrones, Resident Evil: Extinction) in the role of Dr. Alexander Isaacs, and newcomers to the franchise include Ruby Rose (xXx: Return of Xander Cage), Irish actor Eoin Macken (The Night Shift), Japanese television personality and model, Rola, as Cobalt, South Korean actor, Lee Joon-Gi (My Girl) as Commando, British actor, Fraser James (Law & Order), with Latin American actor, William Levy (Addicted).

Resident Evil: The Final Chapter, which is being screened in Philippine cinemas, is distributed by Columbia Pictures, the local office of Sony Pictures Releasing International.



ADVERTISEMENT - CONTINUE READING BELOW